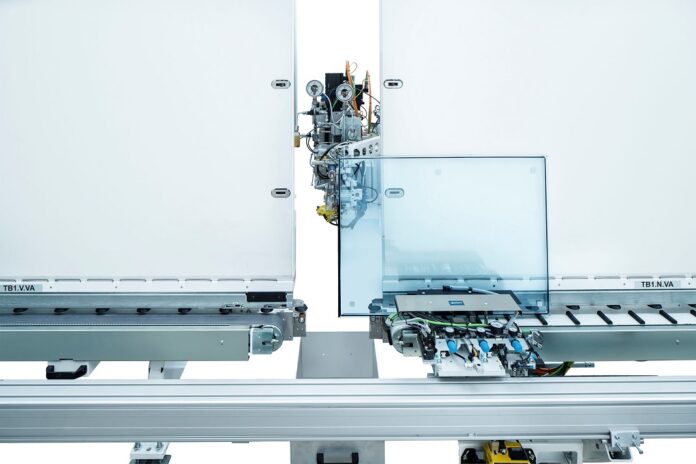 Representatives of the glass processing technology firm Glaston are to showcase some of the company's latest products and developments at this year's China Glass exhibition. The event is to take place from 6 to 9 May at the Shanghai New International Expo Centre. Glaston's representatives are to be based at Hall E1, Booth 419.
China Glass is marketed as a platform for 'technology and business collaboration'. It was founded by the Chinese Ceramic Society in 1986 and is held once a year. The Glaston products that are due to be displayed at the event include the Glaston Comfort Sealer (an automated sealing robot for insulated glass units, IGUs), Thermo Plastic Spaces (TPS, an efficiency solution), Glaston CHF Solar (a solar tempering line), Glaston TC Series (a circulated air system), Glaston Champ EVO (an updated automotive glass pre-processing line) and the Glaston Matrix EVO (an automatic bending furnace for automotive applications).
"For those who do not wish to seal IGUs manually, with the aid of Comfort Sealer one can upgrade the Glaston IG line Comfort Box from an entry-level solution for industrial IG production to an automated production line," said Glaston's representative. "The new Comfort Sealer has high material dosing accuracy due to the convincing gear pump dosing technology.
"This volume-controlled dosing function precisely determines the sealing depth and width, and then subsequently applies the exact volume of sealing material required. The high-quality dosing technology is developed in Germany and assembled in China."
Glaston's TPS, which is also to be displayed at China Glass, is marketed as a system solution for 'highly efficient insulating glass manufacturing'. The TPS material can be applied directly onto the glass plate. The spacer width can be changed as desired during operation without any time loss.
"Glaston is the inventor of this technology with more than 160 installations worldwide," Glaston's representative added. "TPS is the most flexible way of producing IGUs or solar panels."