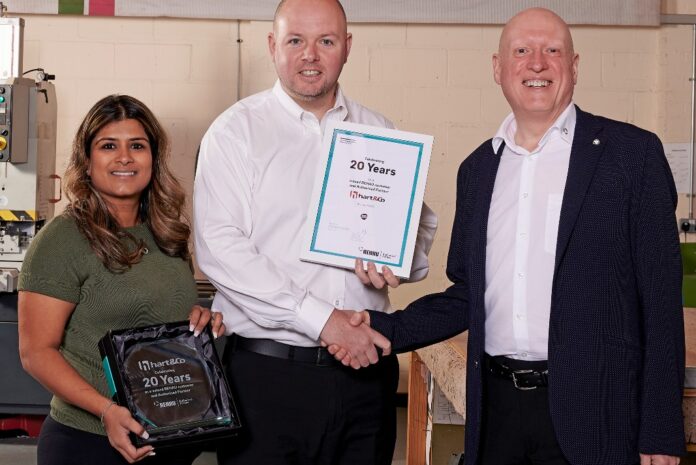 Staff of Skelmersdale-based fabricator Hart and Co have celebrated the firm's 20-year anniversary working with the polymer supplier Rehau. The anniversary was in 2022 and representatives of the fabricator have this year restated their commitment to producing high-quality window solutions using Rehau.
Hart and Co has included Rehau's Total70C window in its portfolio since 2002 and has continued to provide the solution to fenestration professionals. The Rehau casement window helped launch the fabricator's newly added PVC division, we have been told, which reportedly is going from strength to strength.
"We started out in joinery in 1979 but after we identified a change in client demands, we expanded our offering with a second factory that supplied PVC solutions," explained Chris Hart, a director at Hart and Co. "Rehau was such a well-established name, they were a clear first choice. Immediately we recognised the high-quality technical support offered to us on the end of the phone. Matched with their ability to spot a gap in the market and complete all of the research and development necessary to supply us with regulation-compliant solutions, Rehau really provide a complete package as a profile provider."
As compliance with the Decent Homes Standard became customary, staff at Rehau approached Hart and Co, offering to add the Rauferno range and compatible automatic opening vents to the portfolio. The manufacturer claims to be one of few UK businesses to be third-party approved to manufacture and offer a fire-rated window solution.
"Occupant safety has become a huge priority in recent years, with specifiers required to consider their building materials more carefully than ever," Chris added. "The demand for fire-rated windows and smoke vent solutions has grown considerably. We are proud to be able to provide solutions that meet tightening regulations through Rehau.
"There aren't many other systems houses that provide fire-rated windows. It's quite a niche product, despite its requirement in the market. Moving forward we'd like to continue to grow this offering and, with Rehau's help, become the number one supplier of fire-rated solutions."
"We are very proud to have been able to play a part in Hart and Co's success over the last two decades and help expand their window offering," said Jonathan Hicks, head of sales (north) for Rehau Windows Solutions. "It's fantastic to have seen them become specialists in such an essential area as fire-rated windows. We hope to support them to build on this strong reputation moving forward."