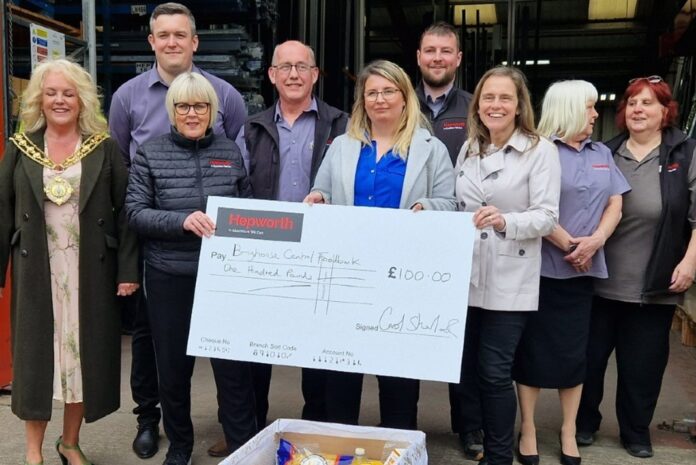 Leaders of Hepworth Framework unveiled the business' expanded manufacturing facility in Brighouse, West Yorkshire, on 27 April. The unveiling was part of an open day event during which the fabricator's team welcomed customers, suppliers, prospects and the Mayor of Calderdale, Councillor Angie Gallagher.
The open house event celebrated an investment of more than £1m which has resulted in a purpose-built aluminium manufacturing plant, a larger workforce, increased output, an expanded window and door system offering and a new showroom. Councillor Gallagher commented on the importance of Hepworth as a significant local employer and supplier to the north west region, after a tour of the facility.
Representatives of Brighouse Central Foodbank also attended the open day, to receive a cheque and a box of food supplies in support of the charity's efforts for the benefit of the local community. "Hepworth has a loyal customer base in the north, and we want to help to those who are struggling locally during the cost of living crisis," said Richard Steckles, Hepworth's managing director.
He added: "The foundation of Hepworth's business is in the manufacture and supply of quality aluminium doors and windows. We have been a customer of Senior Architectural Systems for 30 years and recently added Cortizo to our product range.
"With aluminium being a harder medium to work with than PVC-U, our team is highly skilled. Our open day gave visitors an opportunity to see this for themselves, through personal tours of the factory.
"Hepworth prides itself on our consultative relationship with customers. We're here to help and no job is too complicated," Richard continued. "We want to be the supply partner that people working in aluminium turn to. We have the knowledge, the skills, the team and the capacity, and our business is in building relationships that are mutually beneficial.
"We've been here for years, and we plan to be here for years to come. Our plans are not over yet though. A trade counter is scheduled to open later in the year, due to customer demand." For more information about the business, visit hepworthframework.co.uk, call 1484 650 000 or email info@hepworthframework.co.uk.