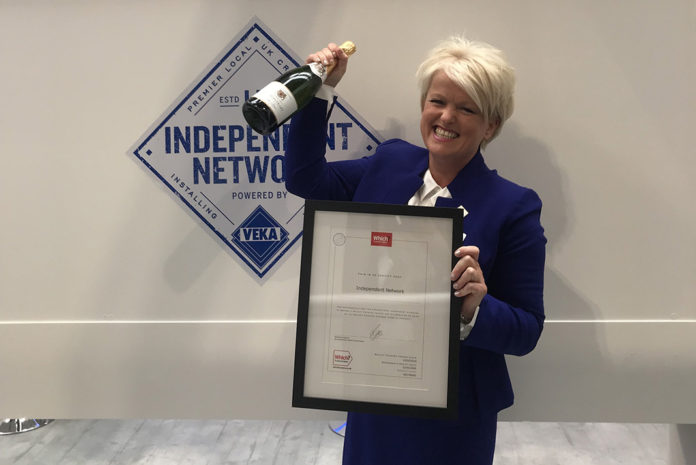 Which? Trusted Traders has announced its official endorsement of Independent Network.
Veka UK Group's head of partner programmes, Karen Lund, said: "We're delighted to be allied with Which? Trusted Traders. It's yet another clear and independent demonstration to homeowners that our members uphold the highest standards in all aspects of their business.
"When Independent Network launched in 1996, it was the first organisation of its kind and is still the absolute pinnacle of installer support in fenestration. It was established to let quality and service shine through, and protect homeowners, at a time when double glazing and PVC-U was more often associated with pushy salespeople and cowboy contractors.
"We still have the exact same aim, as we did when the Network launched 23 years ago; to protect homeowners against shoddy workmanship and to support the industry's hardest working, most professional window and door companies. Now, we have more than two decades' experience, members all across the country, and an ever-evolving range of fantastic services and benefits that quite simply can't be matched."
The vetting procedure for a company to become an IN member is said to be so rigorous, that only the most professional companies are accepted, and – even then – they must agree to ongoing audits to ensure these high standards are continuously maintained. As well as workmanship, IN examines their financial health, business and administration processes, and customer service record. All IN members must also commit to using systems from Veka UK Group.
Karen added: "The Which? Trusted Traders process reinforced, to me, how effective our acceptance procedures are. Especially when you consider that one in four companies that apply to Which? Trusted Traders do not make the grade.
"Like the well-known Which? Best Buy logo, the Which? Trusted Trader logo is a sign of reputation and trust, and we're delighted that IN members are now able to use this image on vehicles and in marketing materials to further highlight the standard of their work. We've always known that our members are the best in the business, and this gives us yet another way to prove it!"