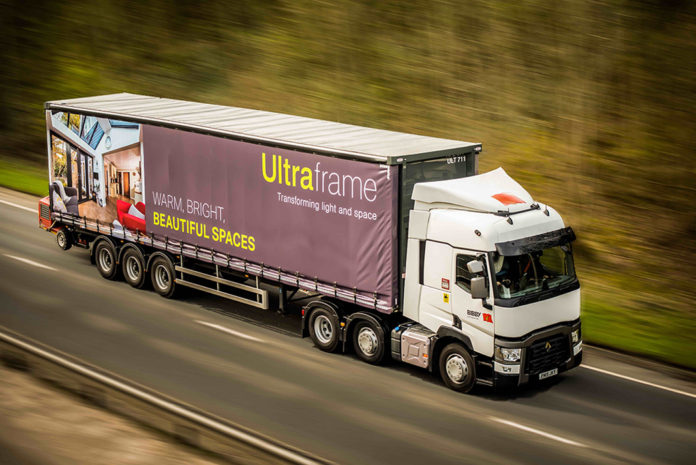 Ultraframe has invested in its fleet of delivery vehicles, with the most recent additions being eight new Renault tractor units. The high specification tractor units join the 15 new trailers that were introduced to the fleet at the end of 2018.
The eight new tractors are replacing current vehicles and boast cleaner engines which meet the latest Euro 6 emissions standard. They are also around 10% more fuel efficient than the previous Euro 5 vehicles. Each of the tractor units is said to feature state of the art technology including telematics and a range of driver assist technology and cameras.
The new tractor units will be used to deliver conservatory and extension roofing systems to customers across the UK.
Ultraframe logistics manager, Paul Greaves, said: "It was the advancements in driver comfort and overall ease of use that were key in choosing the new Range T as replacements in our fleet. The potential for fuel savings compared to other marques are definitely there and once our drivers have completed their Optifuel driver training we will be able to really maximise the use of the new technology in this area. Some of our long-standing drivers who usually think 'a truck is a truck' have acknowledged that the Range T is something different and something special – they have even commented that they look forward to coming to work even more since they started driving them. Ultraframe believes in investing in its staff across the business to ensure that we have a positive and committed workforce, so to receive feedback like this from our drivers is confirmation that not only will the new vehicles bring us environmental benefits, but also ensure a motivated team."
Optifuel Drive training provides drivers with the practical advice and physical training on efficient driving and better vehicle utilisation, focusing on Opti-Drive Transmission, Renault Truck's revolutionary gear changing system. The training equips drivers with the knowledge in order to maximise safety, increase fuel efficiency and reduce the likelihood of unplanned stops.