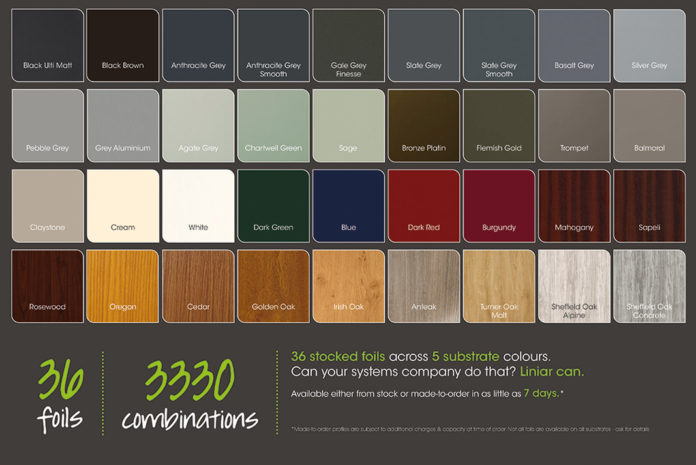 Liniar says it has responded to consumer demand for a greater choice of colour, with an increased colour range featuring 'stunning shades and finishes'.
The system house adds that it is 'no stranger to colour' and has offered choices in both substrate colour and foil finishes since the creation of its flagship profile in 2008. Since then, its product range and subsequently, its foiled colour range, is reported to have grown 'exponentially'.
From 1 March, the system house's stocked colour range has increased to 35 colours, with a total of 3,330 colour combinations available on a seven-day lead time.
With substrate colours, foils and finishes held on-site, and the latest foiling machinery available to produce 'special' orders at speed, Liniar says that its in-house lamination facility can supply 'endless' colour combinations within seven working days, with thousands of additional made-to-order colours also available subject to minimum order quantities.
The new colours coincide with the launch of the company's online Colour page that showcases the stocked foils available from Liniar. The colour function on the Liniar website has been designed to be easily implemented into customers' own websites.