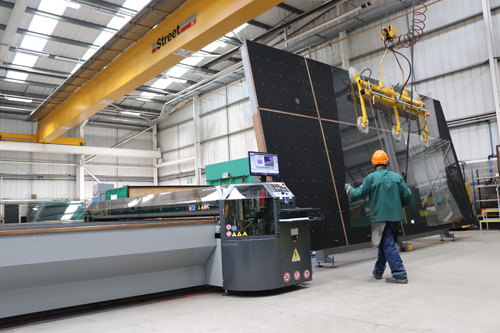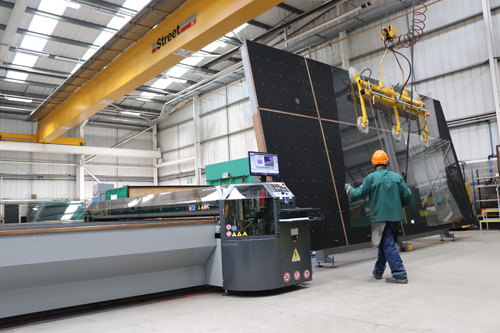 Mackenzie Glass has announced that it has completed 'major investment' in a new Bottero 515LAMe laminated glass cutting table, which it says will shorten turn-around times on cut-to-size laminates.
Delivered in July with an accompanying loading table, its new laminate cutting table also gives Mackenzie Glass the capacity to handle 'super-sized' 4.5m x 3.2m laminated sheets.
Running across two-shifts 24hours a day, Mark Herbert, joint managing director, said that the investment has already allowed Mackenzie Glass to cut delivery times to as little as three-days with ambitions to reduce turnaround times to 48hrs or less.
"Our pre-existing Boterro cutting table (which we're retaining) takes around eight minutes to heat thicker laminate glass to splitting temperature compared to just 90 seconds on the new platform," said Mark.
"That allows us to process laminates far more quickly, significantly reducing lead times. It also gives us scale.
"It will cut sheets of 4.5m x 3.2m, compared to a standard cutting table, which will normally be around 3.2m x 2.5m.
"This allows us to better align our offer to the market and the demand being placed on our customers for the supply of larger IGUs."
Mackenzie Glass was formed at the end of last year as a stand-alone business and vehicle for the acquisition of Pilkington Bristol from NSG. Reportedly supplying more than one million square metres of flat glass a year with a turnover in excess of £5m, the deal saw assets and employees transferred, with Mackenzie Glass also assuming new status as the first Pilkington Regional Partner.
"Our new laminate cutting table also supports our focus on the supply of higher value product," continued Mark. "Products, for example, like Pilkington Optiview, MirrorView and thicker Optilam options.
"Ultimately, it comes back to speed of turnaround. We process a lot of 13.5m laminate, cutting that processing time from minutes to seconds allows us to deliver a step change in the service we can offer to our customers, cutting lead times and delivering far greater flexibility."