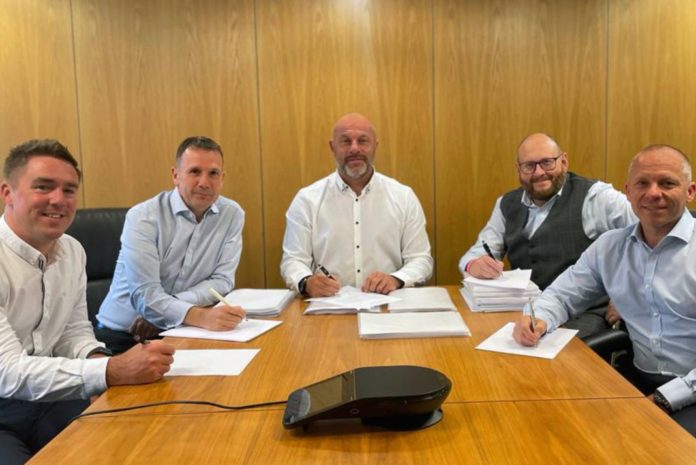 Trade fabricator, the Glazerite UK Group, has been acquired in a management buyout (MBO). The MBO completed on 9 July 2021, with the new team acquiring 90% of the business while the business' former chairman, John Hewitt, retained 10%. Led by Robert Brearley, group managing director, the management team now includes Mark Johnston, group finance director; Jeff Dunn, group sales and marketing director; Darren Rhodes, managing director (North West) and Matthew Thomas, managing director (East).
Robert said: "Glazerite is an incredible compan,y and much of what has been achieved so far is down to its people. With strong leadership and a talented and passionate team across the group, the business has grown way beyond any expectations. With ambitious growth plans and continuous investment over the years, it's proudly sitting as a major player in the industry. The business is in good stead for the future and we have some innovative and exciting plans in place to build on our offering as we look to take Glazerite to the next level."
Glazerite was founded in 2000 by John Hewitt and Jason Thompson, and has experienced tenfold growth since then, they say. The company now employs around 270 people at its sites in Bolton, Peterborough, Wellingborough and Bristol.
From the outset, servicing installers with a comprehensive range of products and services has been fundamental for the fabricator, the business claims, with leading brands such as Veka, Halo and the Residence Collection at the core of the offering. Glazerite's main supplier, the Veka Group, has welcomed the move.
Neil Evans, Veka's managing director, said: "We have a solid, longstanding and vital partnership with Glazerite. They have always set the bar high in terms of an offering from a fabricator. The new management team is equipped with drive, experience and expertise to shape the incredible business built by John and Jason as it moves to the next level. It's always good to see some fresh perspective and ambition within our customers and we look forward to working together on our common long-term goals."
Sarah Hitchings, sales a marketing director for Window Widgets and the Residence Collection, who was part of an MBO team at the Gloucester-based firm in 2019, added: "It's a really exciting time for Glazerite. We have been partners for a long time and look forward to continuing our partnership with the company under its new leadership. Having been part of the team who led the buyout of Window Widgets and the Residence Collection, I understand the rollercoaster of emotions the team will have been on! I know from experience how the process can mark an exciting shift in culture, service, and relationships. I wish the team luck with the next chapter of this already very successful business."
The MBO was put together by Don Gray of BHP Corporate Finance, with funding from Nick Salmons at Shawbrook Bank.