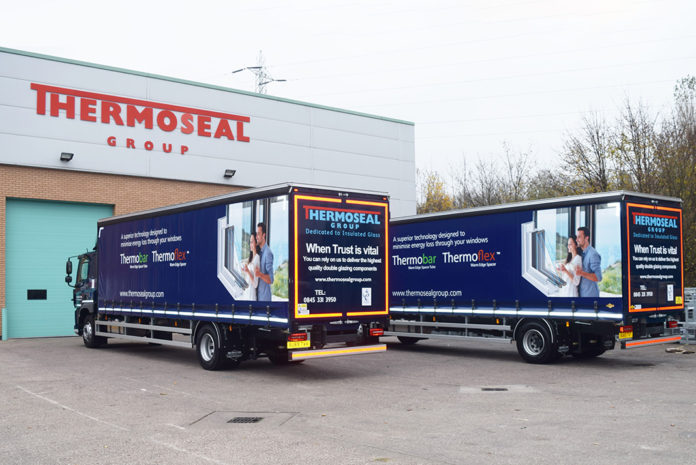 Thermoseal Group has upgraded the first of its fleet of vehicles to a 31ft truck. This will allow the transport of a greater volume of insulated glass components to accommodate larger orders on extended delivery routes.
Since embarking on its Thermobar and Thermoflex warm edge manufacturing project back in 2010, the Group says it has been continually investing in the infrastructure of the business to meet the increasing volume of sales of its products. This truck, as well as the addition of 26ft trucks with sleeper cabins, means that the Group can deliver a greater volume of larger orders to customers across the UK and Ireland.
Thermoseal Group's sales director, Mark Hickox, said: "As a market leader in the manufacture and supply of spacer bar and a broad range of other IG components, our customers expect us to meet their changing requirements. With this in mind, we are continually developing the business to ensure that what we have written on the back of our vans – 'When Trust is Vital, you can rely on Thermoseal Group to deliver' – continues to be true.
"Extending the size of our trucks is just a small part what we're doing to ensure that we can meet the increasing demand for our products," he continued. "Just this year, we have also completed the installation of an order and tracking system which was the final stage of our five year plan to offer a paperless order processing system. This system, coupled with an earlier-installed bar coding system, means that we can track our products and service from raw material right through the manufacturing process to delivery to the customer, and all by reducing our usage of paper and so minimising our carbon footprint! Then there's the investment in the technical centre, new production equipment, additional buildings and more staff.
"The sheer volume of changes brought about by continual investment in Thermoseal Group's production and infrastructure could keep me talking all day and that's without our ambitious plans for future growth and development. It's exciting to be part of the growth of the business," added Mark.
"Of course, we couldn't do any of this without our customers, so I'd like to thank them for their trust and loyalty in continuing to purchase from us and assure them that we will continue to do everything we can to evolve our products and service to meet the changing requirements of the market as a whole."