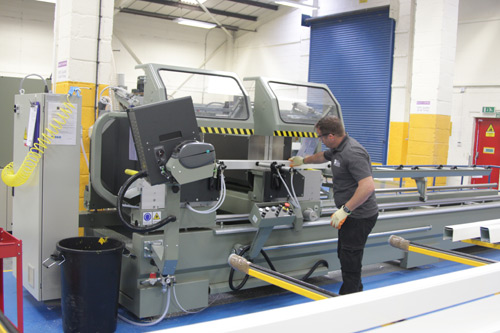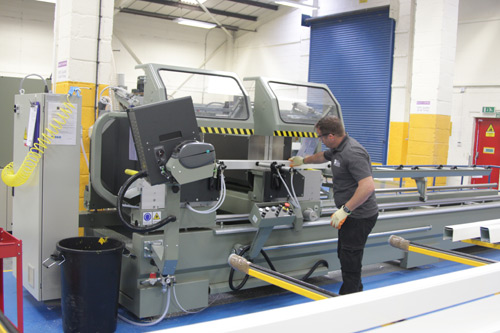 Made for Trade has become what is now believed to be the biggest user of Emmegi machines in the UK by quantity, with the addition of a fourth Phantomatic T3A three axis machining centre to its manufacturing set up.
This brings to 13 the total number of saws and machining centres Emmegi has supplied to Made for Trade since 2013, as the company behind the Korniche roof system has continued to invest to keep pace with demand.
Made for Trade was reportedly operating older Emmegi type profile saws back in 2013, when managing director, Bradley Gaunt, ordered the first Phantomatic T3A and Emmegi Twin electronic double mitre saw.
That production set up is said to have proved so successful that Made for Trade ordered another Phantomatic T3A and Classic electronic double head saw two years later to create a second similar production set up, and these were followed in 2016 by the third T3A and a top of the range Combi 5 axis electronic compound cutting mitre saw. The fourth T3A and a second Combi saw were added in 2017.
Alongside the T3As, Made for Trade has also invested in two Phantomatic X4 four axis machines, specifically to manufacture the Korniche roof system, with a third ordered and scheduled for delivery in February. These have been specially tooled to suit the precision requirements of the new roof.
Ian Latimer, managing director of Emmegi (UK), commented: "Made for Trade has been buying Emmegi machines ever since they were established and we're very proud to be their key machinery partner. Their growth over the past four or five years has been truly phenomenal and we've worked with them every step of the way to make sure that they have the very best machinery set up to suit their needs.
"With six advanced CNC machining centres, electronic double mitre saws, NC bead saws and a single head upstroke saw, we think they now have the most Emmegi machines of any single customer in the UK."
Bradley Gaunt from Made for Trade added: "We chose Emmegi from the outset because we liked the quality and durability of the machines. Once we'd launched the Korniche roof, precision accuracy became our key criteria and Emmegi have again delivered exactly what we need to achieve the tolerances required to make sure every roof fits together effortlessly."
Latimer concluded: "We continue to work hard to repay the loyalty Made for Trade have shown to us. They know that they can rely on us for quality products, reliable service and expert advice and, when a company is growing as fast as they are, that's more important to them than ever."