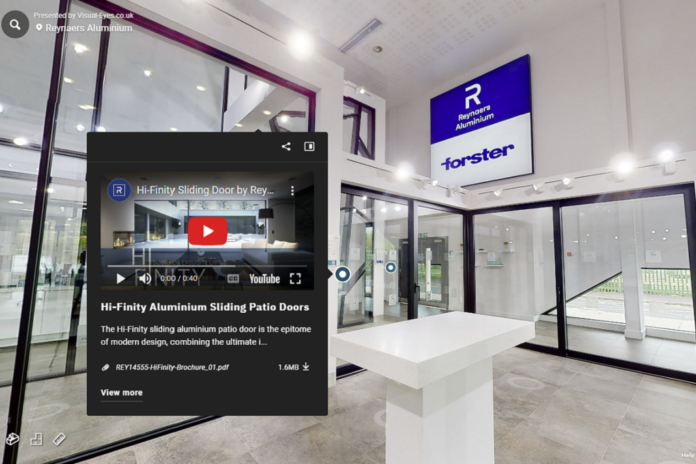 Reynaers Aluminium UK now has a 360° virtual showroom to showcase products. While the Reynaers UK team has a comprehensive showroom at the firm's Birmingham headquarters, the interactive virtual showroom is expected to make viewing the finished product instantly accessible to fabricators, installers, architects and homeowners across the country.
This latest step in Reynaers' digitalisation drive sets out to take the customer on a journey through the different products available, to gain an insight into how they would look on a completed project, Reynaers' representatives have said.
The tour includes information points to provide further details about each product and links to online specifications.
'Hotspots' on the Reynaers at Home version of the showroom are designed to provide general information geared specifically towards homeowners.
The digital showroom is also expected to help to support the company's goals to operate more sustainably and cut carbon emissions wherever possible.
"Visualising the systems in place is important to all clients throughout the supply chain," explained Samantha Hill, head of marketing at Reynaers Aluminium UK. "By introducing this interactive showroom, installers, fabricators and the end customer can get a real taste of how Reynaers' systems will look in the final project.
"Reynaers' customers are welcome to visit the showroom here in Birmingham but we recognise that is not always practical and wanted to make it as easy as possible to visualise these design-led installations in situ, where you can see what can really be achieved with high-end, slimline aluminium glazing systems.
"While the showroom offers a great walkaround experience, future functionality will look to include product demonstrations as part of a programme of continual development in digital resources."
Under the Reynaers at Home scheme, partners can book time in the central showroom to show clients how systems will look on a completed project. Commercial customers are also set to have access to a dedicated virtual showroom.