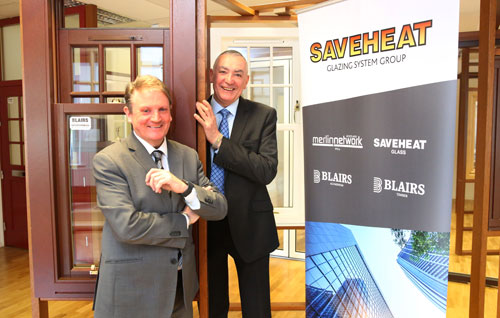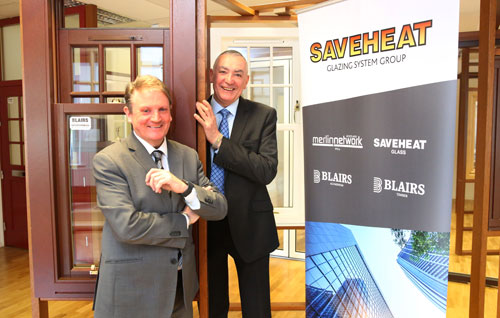 Two well-known figures, with a combined experience of more than 60 years in the window and glass sectors, have joined forces to form The Saveheat Group.
Formed by Alex Gray who is currently chairman of the Glass and Glazing Federation in Scotland and Colin Torley, formerly of Veka, The Saveheat Group reportedly becomes the first company in Scotland to manufacture, timber, aluminium, PVC-U and glass products for trade installers, the commercial and construction industries.
This development follows the recent consolidation of Merlin Network (Scotland) into the group along with the formation of Blairs Aluminium Systems in 2016. The group also comprises Saveheat Glass and Blairs Timber Windows.
Merlin Network's expertise is in the window and conservatory sectors, while Blairs Aluminium Systems offers aluminium glazing systems. Saveheat Glass is a manufacturer of insulating glass units, whereas Blairs Timber Windows has been providing timber windows and doors since 1913.
Managing director, Alex Gray, described the development as 'significant' for the businesses. He said: "The exciting new group set-up acknowledges that we can now provide a much wider set of options to our customers.
"By offering timber, aluminium, PVC-U and glass, we have become the first company in Scotland to manufacture the four fundamental materials in the window and glass industries to our customers."
While currently the main market is Scotland, the new group is targeting increased sales across the whole of the United Kingdom and looking to build on the reputation it already has with past and current contracts, according to sales and operations director, Colin Torley. He said: "As we are unifying four incredibly strong brands in a clear, revitalised group, we believe it will enhance business opportunities in the whole of the United Kingdom, as well as boost the experience of our customers as they can now utilise our far-reaching group expertise. With our vast experience and years of combined trading, we feel that this will bring considerable benefits to our customers."
The group employs 150 staff across four manufacturing locations in the central belt of Scotland. Its current turnover is reportedly more than £16 million.
A new website is currently being developed to support the formation of the group and to showcase the expanded range of products.