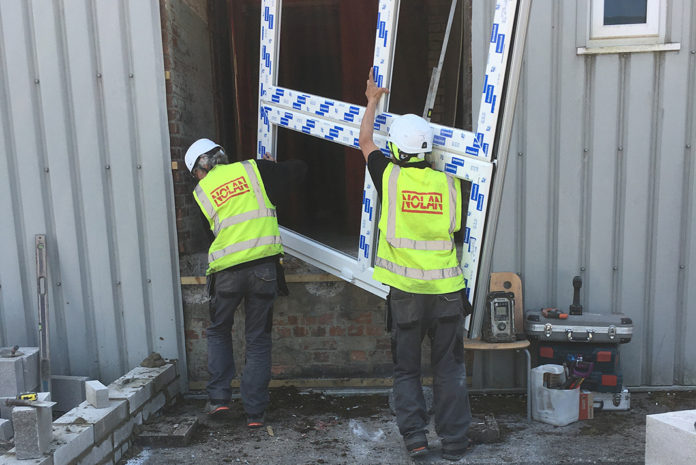 Nolan uPVC is said to be playing a crucial role in the construction of a temporary NHS Nightingale COVID-19 field hospital in Swansea. Carmarthenshire-based fabricator has fabricated and installed 14 fire doors for the NHS treatment facility at Bay Studios on the site of the former Ford plant.
Kier is currently working with Swansea Council and local contractor TRJ to transform the 11,000m2 film studios and former factory into a Nightingale field hospital with 850 beds. With less than seven days' notice, Nolan and systems company Deceuninck are said to have responded immediately to ensure the doors were fitted by Saturday 25 April.
Jason James, Nolan uPVC managing director, said: "Last weekend (18th April) we took an urgent call to supply and fit 13 double fire escape doors and one fire escape door at the new Nightingale hospital in Swansea. We had less than a week to turn the project around, and Deceuninck was able to deliver the profile and components within 48 hours. Our team of fabricators and installers then supplied and fitted the doors by Saturday's deadline. It was very much a team effort between Nolan and Deceuninck, and we are delighted to do our bit to help the NHS in these desperate times".
Rob McGlennon, Deceuninck MD, added: "We reacted quickly to ensure Nolan had the profile and components needed to complete this urgent project. We're proud to come together with Nolan to support the NHS and the nation's fight against Coronavirus."