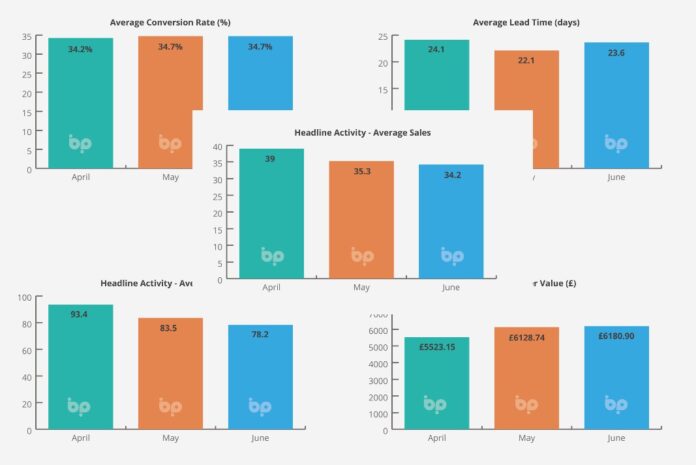 By Neil Cooper-Smith, senior analyst, Business Pilot
The Business Pilot Barometer offers monthly analysis of the key trends defining window and door retail. It draws on real industry data collated by Business Pilot, the cloud-based business management tool developed by installers, for installers.
We can now say with confidence that the market has cooled significantly in the last quarter, with sales dropping by around 12% in the 3 months from April to June. This follows a small drop in average sales in June on May, down by 3%. The number of new leads also fell month-on-month; we recorded a 6% drop.
The market is down, inflation has hit and the boom is over. Year-on-year, things are stark. Sales are down June 2022 on June 2021 by 30%. Leads are down 29% over the same period.
As we have stated previously, this doesn't indicate that we're heading for a crash. The year-on-year change is nonetheless striking. Average order values did however continue to climb, up 1% on May. Year-on-year, June 2022 compared to June 2021, the increase is 43%.
As we highlighted last month, we attribute this to a shift away from single item and ad hoc aspirational spend, for example the purchase of bi-folds or a new front door, to a more comprehensive whole house approach to home improvements. This is being driven by inflationary pressures, which is on the one hand driving an element of market contraction but on the other creating new opportunities, particularly in home energy efficiency.
Although the rate of house price inflation has slowed, simple pressures of supply and demand mean that house prices have held firm. As long as people have equity in their properties and confidence in the housing market, we can expect them to continue to want to invest.
The Greener Homes Attitudes Tracker from Natwest showed last month that the number of people planning green home improvements rose from 16% in at the end of 2021 to 22% in May this year. It also suggest that homeowners were bringing improvements forward in response to rising energy prices.
This indicates that those with a greater disposable income are continuing to spend. Those who are feeling the pinch, aren't.
While council tax rebates and energy relief payments from government are welcome, they provide a short-term solution only. We would argue against this context. As called for by the Climate Change Committee at the end of June, the creation of a programme to support all homeowners in improving the energy efficiency of their homes is now pressing from an environmental but also socio-economic perspective.
We believe that this pattern is going to define the market going forward this year and into much of 2023. The Bank of England says it expects inflation to hit a high of 11% before falling back to around 2% by sometime in 2024.
The market is going to be tougher for the foreseeable future, so understanding where your leads are coming from and maximising conversions is going to be key. With a sophisticated lead tracking capability, lead heat mapping and sales pipeline management tool, Business Pilot helps you maximise leads, manage their conversion and then simplifies project delivery, maximising your profitability on every job.