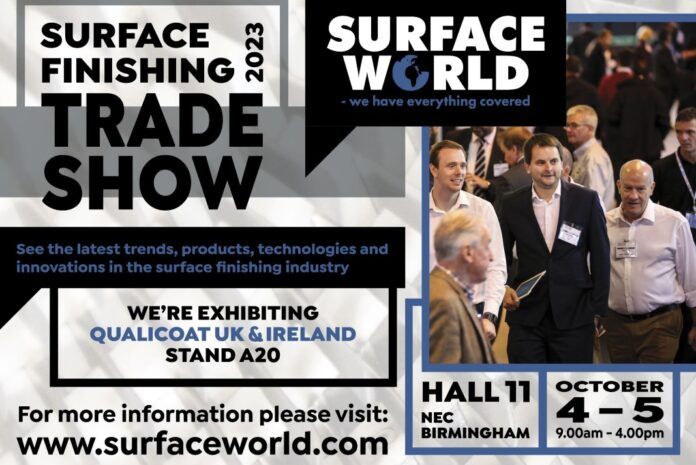 Leaders of Qualicoat UK and Ireland are supporting this year's Surface World exhibition. The show is set to take place on 4 and 5 October in Hall 11 of Birmingham's NEC. The Qualicoat team's stand is to be A20. Tickets for the show are available from surfaceworld.com.
At Surface World, staff of the Qualicoat association aim to communicate two of the USPs of the organisation's specification at the show: 1) that the specification is 'the only globally recognised specification for architectural powder coating', meaning that as a specifier you can specify Qualicoat for any project, anywhere and it will be supported with a local, licensed supply chain. And 2) that the specification is 'the only third-party accredited specification for architectural powder coating' services.
Powder coating Qualicoat members are visited, unannounced, twice yearly by an independent test house representative that inspects processes and checks records to ensure that the specification is being followed. Failure to follow the specification can lead to a member losing their Qualicoat licence.
Qualicoat now has 44 members. The association's aim remains the adoption of the most up-to-date methodologies and specifications, to ensure the very best in architectural powder coating for specifiers in the construction industry.
The current Qualicoat Specification is freely available for download via the association's website, where a list of current licensed UK and Ireland powder suppliers, pretreatment suppliers and applicators can also be found. Telephone support is available from Qualicoat UK and Ireland head office in Birmingham. Call 0330 236 2800 for more information, or follow @Qualicoatuki on X (the social media platform formerly known as Twitter). The association can also be followed on LinkedIn via linkedin.com/company/qualicoat-uk-&-ireland.