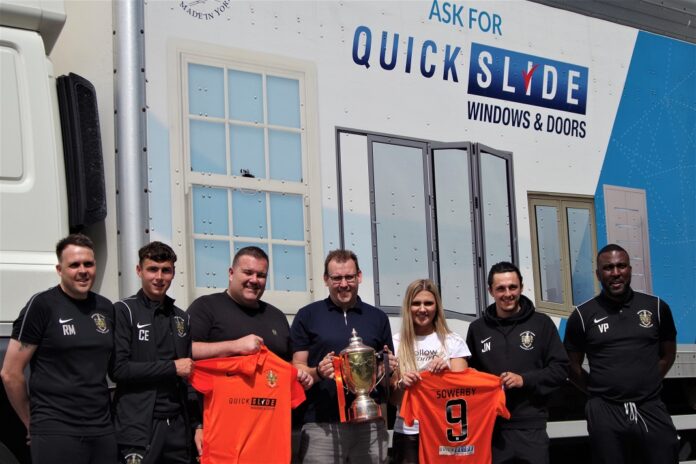 Quickslide has announced that it will support Brighouse Town FC for another season as official partners and kit sponsors for both of the club's teams (the men's team and the women's). The Northern Premier League side's motto is 'One town, one team', which is a sentiment that the window and door fabrication business Quickslide can fully get on board with, its representatives have said.
"Strengthening links with our local community is important to us as a business," said Ben Weber, Quickslide's managing director. "We're one of the largest employers in the area but our business is mainly selling to trade customers nationwide, so it's really important to us to have a good relationship with the local people in a direct way like this and bring tangible, positive benefits to the town.
"We proudly still hold the title of best business in Calderdale, which we were awarded for our contribution to the community and investment in people, as well as our overall business performance. It's important for us to support the community and be in conversation with our neighbours."
Quickslide's factory, offices and showroom of are just two miles away from the football club's St Giles Road stadium. Many employees and local customers are regulars at Brighouse Town's games. Several employees have also played for the club.
Ben added: "We're aware that club supporters include our future employees as well as plenty of our current ones, so sponsorship is good for morale and even our future business plans. Longstanding employees are crucial in the recipe of business excellence and we're committed to the people who make Quickslide the success it is."