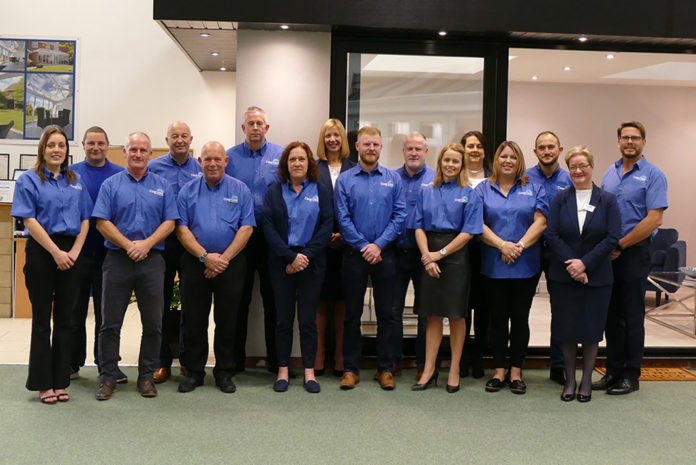 Retail installation business, Clearview Home Improvements, has broken its previous sales record, reaching nearly £3m of sales in a single month for the first time in its 12-year history.
Part of the Conservatory Outlet Group, the North-West-based company, which installs cutting-edge home improvements including contemporary extensions, conservatories, orangeries, windows and doors, saw its sales total peak at just shy of £3m in June 2020, 20% greater than its previous best.
The record-breaking achievement is said to be largely attributed to the company's proactive approach to sales and marketing throughout lockdown. According to Clearview, it quickly realised the demand for its products remained high despite the restrictions, and continued its proactive multi-channel marketing approach, immediately setting up a virtual sales appointment service which was met with high demand.
Clearview Home Improvements claims it was able to generate enquiries in excess of 75% higher than its year-on-year totals, with its 'Stay-at-Home Sale' campaign delivering a 'ready-made' order book for its return once the restrictions were lifted.
The team at Clearview also used the opportunity to launch a new online design package to support its sales approach. The software from parent company, Conservatory Outlet, provided a platform for the sales team to help customers visualise and connect emotionally with its range of products online.
By the time Clearview reopened its showrooms in line with Government protocols on 5 June, demand was said to be 'extremely high' and has continued to snowball as the weeks have progressed.
Gary Oakes, sales director at Clearview Home Improvements, said: "We took the collective decision very early on to view the lockdown as an opportunity to innovate. Nobody really knew how the market was going to react, but we were confident in our ability to provide our customers with a first-class service and deliver exceptional value, irrespective of the fact that we couldn't carry out home visits.
"This decision ultimately proved to a good one – with families stuck inside, with both the time and impetus to improve or extend their homes, demand for Clearview's services has continued to soar.

"Our sales team have been breaking their personal bests on an almost weekly basis. It has been amazing to see the level of energy from our whole team over the past few weeks to make this happen."
Greg Kane, CEO at Clearview Home Improvements, continued: "This milestone achievement has been a huge team effort – everyone across the business has worked their socks off to achieve it! From lead generation, lead appointing and showroom demonstrations, to sales presentations, sales leadership and everything in-between, this has been a magnificent success and I'm incredibly proud of the whole team.

"We've reached an important threshold and I'm absolutely certain that this will be the first of many records broken for Clearview over the coming months. We'll now be working just as hard to deliver an exceptional service throughout our operations teams and continue to build on our future success."