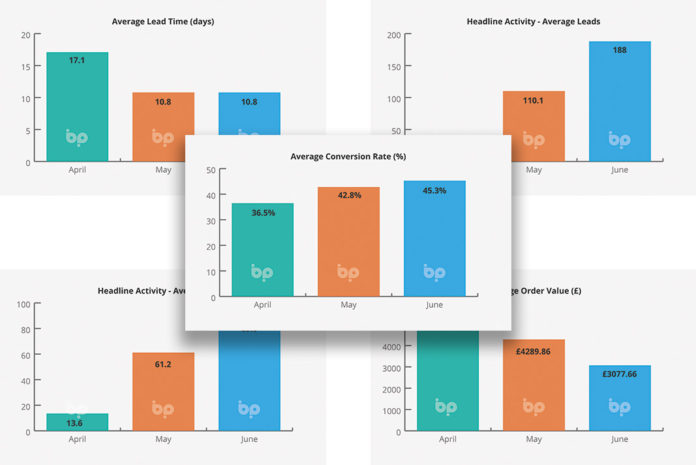 The Business Pilot Barometer offers a monthly analysis of the key trends defining window and door retail. It draws on industry data collated by Business Pilot, the cloud-based business management tool developed by installers for installers. To find out more visit: www.businesspilot.co.uk/barometer
Headline analysis by Neil Cooper-Smith, senior analyst, Business Pilot:
The window and door industry is seeing a boom. Figures for June reinforce what any installer will tell you – retail demand has gone through the roof since the restrictions placed on working in people's homes were lifted on 11 May.
The figures are startling. Average leads were up 70% June on May – and a staggering 453% on April. Sales were up 46% on May and almost 560% on April. This can be attributed to a number of factors. As we have said before, the furlough scheme has guaranteed household incomes, while with little else to do, holidays refunded, and spending time in their properties, consumers have focussed on home improvements.
There has also been a release of latent demand, with leads and jobs carried forward from earlier in the year.
This growth and demand will not be sustainable. It wouldn't be even during times of economic boom. The question is will demand 'settle' to sustainable levels or growth or will it slip back into contraction?
The answer will be dependent on multiple factors. Boris Johnson may be 'fit as a butcher's dog', but the economy is clearly not. Analysts agree that his recent announcements on planning and housing reform, formed little more than a repackaging of measures already announced.
At around £5bn, it also represents a drop in the ocean compared to the €130bn pledged by, for example, the German government to its COVID-19 recovery.
At the time of writing, it is expected that the chancellor, Rishni Sunak, will commit to further fiscal stimulus package this month [July] – but with growing job losses and the end of furlough looming on the horizon, more will need to be done if the UK is to avoid a downturn in the autumn.
The impact of this on the window and door industry specifically will ultimately be dependent on consumer confidence.
At the end of June, the media made much of the stagnation of the housing market, with property values down 0.1% year on year – the first-time price growth has been in negative territory since 2012. No one, however, is predicting a crash and what is clear from our own statistics is that consumers continue to invest in home improvements.
As a final takeaway from this month's barometer figures, average order values dropped by around 30% from £4,290 to £3,077 May to June. However, we need to apply a level of analysis. The industry has seen vastly more sales this month than last, something which by definition will push down average prices.
This aside we commented last month on a shift to single purchases, particularly bi-folding, inline sliding and composite doors, which the figures suggest continued into June.