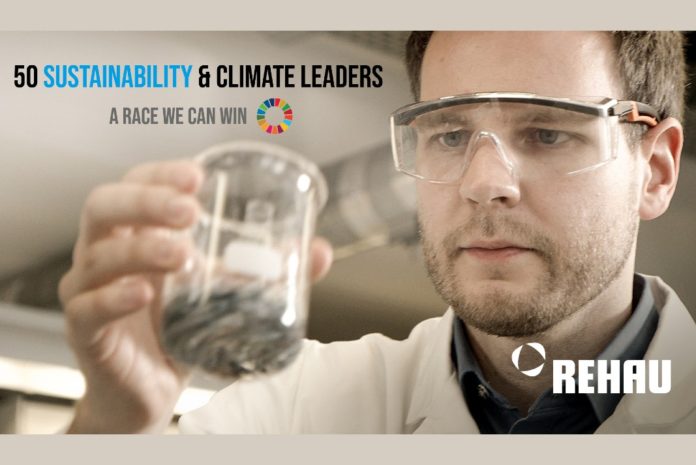 Window profile supplier Rehau has been named as one of 50 sustainability and climate leaders, an initiative by media production agency TBD Media Group in conjunction with the United Nations. The accolade recognises decades of sustainable innovation across the business' value chain. The aim of the '50 Sustainability and Climate Leaders' campaign is to raise awareness of sustainability issues and to provide companies with a platform to showcase their commitment to an international audience.
"As a family business, Rehau adopts a long-term approach to its responsibility towards future generations," explained William Christensen, CEO of the Rehau Group. "To be one of the '50 Sustainability and Climate Leaders' is a real incentive for our 20,000 employees to continue striving for greater sustainability and climate protection. In a nutshell, we want to lead the way when it comes to circular economies."
By 2025, Rehau plans to increase its recycling rate across the group to well over 15%, while reducing CO2 emissions by at least 30%. "We believe in sustainability as a philosophy that is reflected in three core values: trust, reliability and innovation. We want to develop forward-looking technologies to improve lives," asserted Dr Veit Wagner, a member of the Rehau Group's supervisory board.
Using recycled materials rather than new materials in production can reduce CO2 emissions by up to 88%. In addition to the resource-friendly manufacture of durable polymer system solutions, Rehau focuses on the high-quality processing and reuse of post-consumer and post-industrial waste materials. "We are constantly working with all our divisions to evaluate our sustainability strategy," said William, "and we are continuing to develop it."
For more information, and to watch a nine-minute video titled "Rehau: Pushing circular economy with strong conviction and future generations in mind", visit www.50climateleaders.com/rehau and www.rehau.com/sustainability.