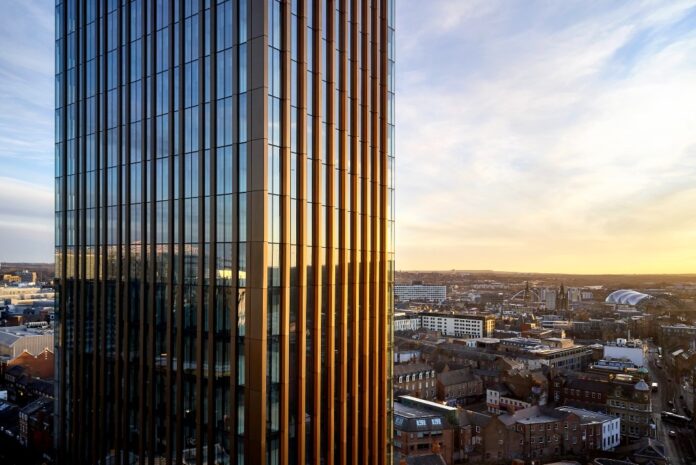 Reynaers Aluminium UK contributed to a project that won a Tall Buildings Award on Tuesday (19 July 2022): the Hadrian's Tower building in Newcastle-upon-Tyne. The tower featured Reynaers' unitised curtain walling system and was awarded the Best Tall Building Façade and Fenestration Engineering Project award. The aluminium systems supplier also sponsored the 'Best Tall Building Architect' category.
Hadrian's Tower stands at 82 metres and is the tallest building project undertaken in Newcastle-upon-Tyne. Dan Gleeson, Reynaers' head of commercial sales, said: "We've been involved in iconic tall building projects across the world since 1965, so it made perfect sense for us to support and sponsor these well-respected industry awards.
"Hadrian's Tower is a perfect example of ambitious architecture at its best. We deployed our unitised curtain walling system to help the architects to achieve panoramic views and a distinctive aesthetic. This has been done without compromising on thermal performance, quality, accuracy, water and air tightness and strength while accommodating building movement which is a key factor in tall buildings.
"Our unitised façade systems provide slim profile designs for architects which meet the highest performance requirements. Prefabrication of the system offsite, in a climate-controlled environment under strict quality assurance, significantly sped up installation without compromising on accuracy or safety."