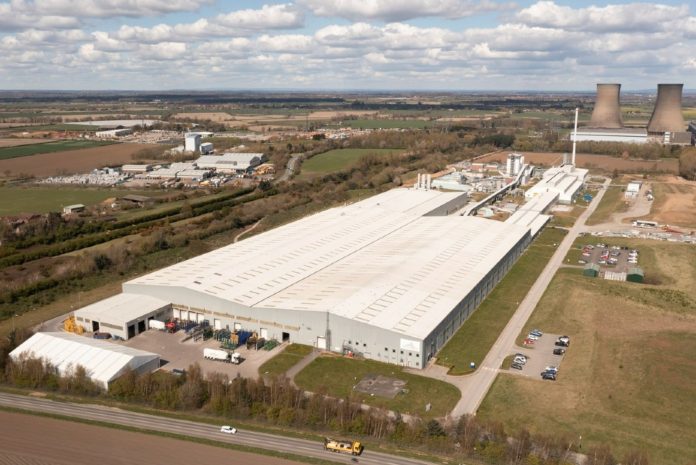 Saint-Gobain Glass is making a £30m investment in its glass manufacturing factory in Eggborough, East Yorkshire. The company is carrying out a major construction programme to completely rebuild the site and install a state-of the-art float glass furnace. It also plans to upgrade other areas of the factory, which will secure the long-term supply of consistently high-quality, high-performance glass in the UK, they say. The project represents Saint-Gobain Group's largest industrial investment in the UK since the Eggborough plant was built in 2000.
Due to be completed by late summer, the installation of the enlarged capacity furnace will replace the existing furnace that has reached the end of its design life. The new furnace will use less energy and will help the company optimise manufacturing efficiency, increase production capacity and further enhance Saint-Gobain's environmental and sustainability credentials, they say.
Steve Severs, managing director at Saint-Gobain Glass, said: "This is a major milestone in the history of our business. It demonstrates our commitment to the long-term future of glass manufacturing in the UK and our confidence in the wider construction industry. The new facility is designed to manufacture high-performance products developed in the UK to meet the specific needs of the UK window industry.
"The project has been several years in development and planning to ensure continuity of supply for our customers throughout the construction process. This has involved a high level of stock build up in advance, and imports of glass from our Saint-Gobain sister plants in Europe which will help to fulfil orders throughout the process. I am grateful for everyone's support and commitment and look forward to the official opening later in the year."
During engineering works, the glass coating line and lamination line at Eggborough are continuing to operate as normal to produce the Planitherm range of products, including Planitherm Total+ and Planitherm One T. Supply of solar controlled glass, such as the SKN and Xtreme ranges, as well as patterned glass, mirrored products, self-cleaning glass, tinted products and lower-iron glass are also unaffected, as these are manufactured at Saint-Gobain Group plants across Europe.
Steve added: "Saint-Gobain has a long history of glass making, stretching back over 350 years. We are very experienced in delivering these complex high-value engineering projects, supported by highly skilled in-house technical and engineering teams. And of course, strict measures are being deployed to ensure the works are delivered in a Covid-19-compliant way."
For updates and more information, visit the company website or follow them on Twitter (@SG_GlassExperts) and LinkedIn.