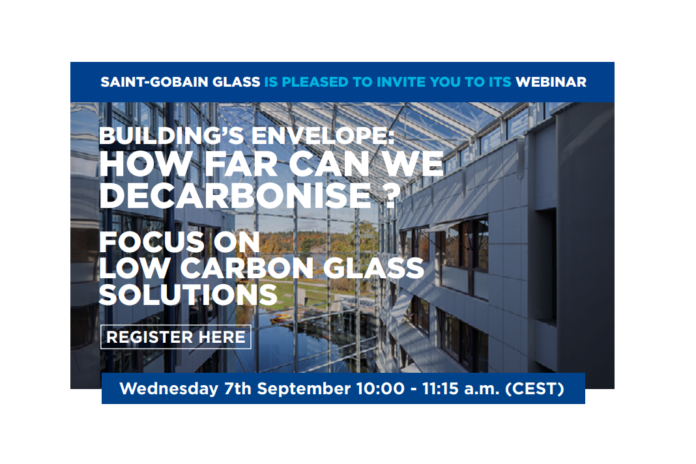 Saint-Gobain Glass is set to launch its first low-carbon glass at Glasstec 2022. The company is to exhibit products in Hall 11, Stand A24, at the international trade fair. Glasstec is due to take place over four days in Dusseldorf, Germany. The show aims to represent the entire glass supply chain.
The new glass was produced using a high volume of recycled glass content as well as renewable energy, which forms part of the company's plans to achieve carbon neutrality by 2050, business representatives have said. As faҫades represent up to 20% of a building's carbon footprint, Saint-Gobain's innovation is expected to significantly reduce the carbon footprint of glazed faҫades, accelerating the push towards a circular economy, business leaders have said.
Mike Butterick, marketing director at Saint-Gobain Glass, said: "This is a world first in sustainable construction and the process doesn't compromise the technical or aesthetic performance of the products. Our focus has always been on manufacturing high-performance products that are energy and carbo- efficient in their operational use. Now we are making huge strides towards decarbonising the manufacturing process and reducing our embodied carbon."
The products are expected to use a glass with an estimated carbon footprint of only 7kg CO2 eq/m2 for a 4mm substrate. The glass is to be combined with existing COOL-LITE XTREME coating technology, which already reduces carbon emissions thanks to its high performance in terms of daylight intake, solar control and thermal insulation, business representatives have said. As a result, the new range is expected to reduce carbon footprint by around 40% compared to Saint-Gobain's baseline product.
Saint-Gobain Glass is also set to host a webinar on 7 September at 10am on how to decarbonise a building envelope. Register for the free webinar here.