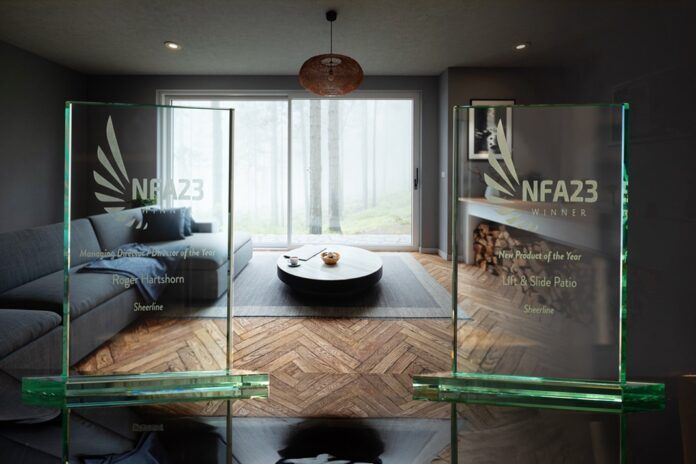 The team at Sheerline won two awards at this year's National Fenestration Awards (NFAs), which took place on Saturday 28 October 2023 at Doncaster Racecourse. It was an extra special evening, the Sheerline team reported, and it was the NFA's 10-year anniversary event too.
"First, Sheerline's Prestige lift-and-slide patio door was awarded the title of New Product of the Year," said Sheerline's representative. "This coveted award is particularly rewarding for Adrian Redshaw, design director, and the rest of the research and development team, as it completes the Prestige range for now, and has already become a firm favourite with Sheerline customers.
"It's also a great achievement because competition was fierce within this category – with 10 other products competing. For the latest addition to the Prestige range to have stood out, it is a testament to the work that goes into Sheerline's R and D, product development, manufacture, sales and marketing.
"For instance, the Prestige lift-and-slide patio has recently achieved Secured by Design accreditation, helped by its in-built security features. These include high-security interlocks that are designed to prevent unwanted intruders from entering the property.
"All of the products within the range are delivered with the consistent design options that give homeowners the ability to achieve consistency throughout their home. They are also all based on Sheerline's patented corner assembly method, with innovative Thermlock thermal breaks.
"The second award that the Sheerline team picked up recognised the leadership of CEO Roger Hartshorn. He was named MD/Director of the Year," continued Sheerline's representative. "This was a fantastic result, particularly as 16 other, well-regarded industry figures were also up for the title.
"It's an even better result when considering Roger was awarded a lifetime achievement award last year for the positive impact he's had on the fenestration industry. To be recognised by his peers, fabricators and installers two years in a row is a significant achievement.
"It reflects what Roger has shown time and time again – that with the right knowledge and investment in both people and equipment, beautiful products that work well, that are technically engineered and innovative, will succeed. There is clearly a demand for beautiful aluminium windows and doors that go above and beyond what everyone expects."
Roger Hartshorn, Sheerline's CEO, added: "We'd like to say a big 'thank you' to the team behind the NFAs. It's been another tremendous success, and it truly is one of the highlights of the fenestration awards calendar.
"To see Sheerline recognised and celebrated among our peers and friends is fantastic. Of course, it's also hugely rewarding to call another one of our products award-winning.
"We deliberately work to ensure our products are the best, not just for homeowners but for installers and fabricators too. Last year it was a pleasant surprise to receive the Lifetime Achievement Award – it's not something that happens every day! – and being named Director of the Year is another great win for Sheerline. It shows we still have more to give," he added.
To find out more about the award-winning Prestige lift-and-slide patio, or any other Sheerline aluminium product, visit the company's website.