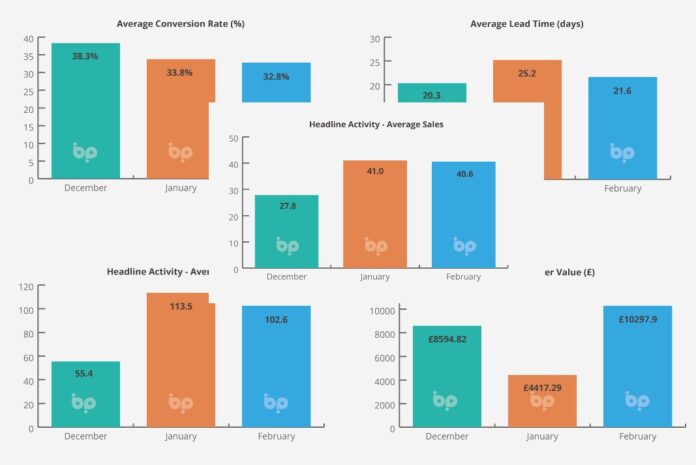 By Neil Cooper-Smith, senior analyst, Business Pilot.
The Business Pilot Barometer offers monthly analysis of the key trends defining window and door retail. It draws on real industry data collated by Business Pilot, the cloud-based business management tool developed by installers, for installers.
It's too early to say what the impact war between Russia and Ukraine will have on the UK economy. But it is likely that it will add fuel to inflationary growth, with prices already rising at their fastest pace for 30 years. As one of the world's largest exporters of oil and gas, sanctions on Russia are likely to push wholesale energy prices, already at record highs, still higher.
We have already warned that the raising of the energy price cap next month will see average household energy bills top £2,000 a year, and could even hit highs of £2,350 by this time next year. That may bring energy consumption into sharper focus, but, with so much uncertainty about the impact of the Russian/Ukrainian conflict, rising inflation and a squeeze on incomes, the question is: will homeowners be prepared to spend?
What we're seeing on the ground is a definitive slowdown, less so in month-on-month change, but on previous years. Sales were down 1% February on January this year, leads dropped by 10%, while conversions also fell by 3%.
Although relatively small changes, there is clear evidence that with furlough and stamp duty breaks behind us, plus the opening up of the economy, some of the heat has gone out of the market. Year-on-year sales in February 2022 compared to 2021 fell by 8%.
Compared to 2020 – still pre-lockdown – sales are down 36%. This is in line with a general fall in consumer confidence recorded by the GfK consumer confidence index falling seven points in February to 26 – the lowest reading since January 2021, which was one of the worst points of the Covid-19 crisis.
With UK inflation rising, for those for whom new windows and doors were an aspirational or discretionary spend, the prospect of tying up cash in home improvements may now be less appealing. Conversely, those with cash, who have perhaps held off on improvements because of long lead times and inflated prices, may decide that, with energy prices rising, now is a good time to invest.
The point is, we don't know, which is why good business discipline and effective lead management is going to be even more important. The Business Pilot sales dashboard is part of our comprehensive business management platform. It tracks leads, demos, daily, weekly and monthly sales, plus closing ratios.
You can literally review where you are against KPIs, and the status of leads. It's there, at your fingertips, as a day-to-day management tool. Having that visibility means you can maximise conversions, which, when the market is tougher (which we believe it will be), delivers an even greater return.