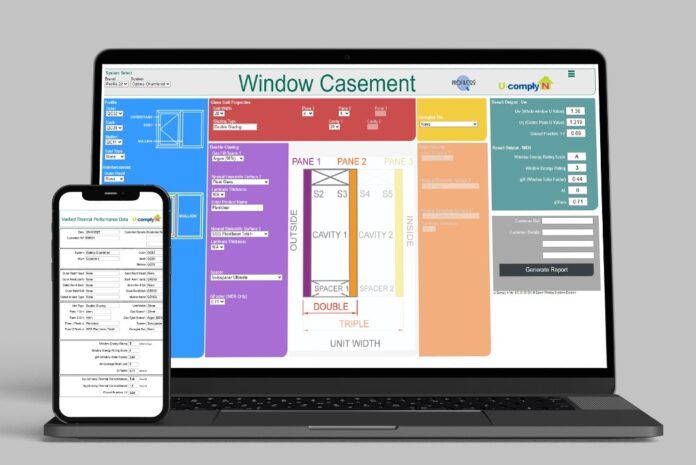 Leaders of Epwin Window Systems have confirmed an increase in downloads of the business' thermal efficiency calculator, U-Comply N. Customers use the calculator to work out the thermal performance and transmittance of their window and door specifications.
The U-Comply N online tool is accredited by the BSI and the BFRC. It can be used to prove a product's compliance with Part L of the building regulations.
"With the changes to Part L, compliance is gaining significance across all market sectors," explained Gerald Allen, head of marketing for Epwin Window Systems. "Over 2,600 calculation reports have been generated by our customers in the past 12 months alone, each based on their chosen specification, including profile, glazing unit, reinforcing and more.
"To demonstrate compliance with Part L, decision making must be documented throughout the design process. Standard Assessment Procedure assessors and local building control need to see the decisions and how designs meet the new regulations. The U-Comply N reports provide this evidence."
The U-Comply N calculator is part of Epwin Window Systems' Connect digital platform, which was created to elevate customer support across all business touchpoints, and to be the industry's most comprehensive customer resource hub. To date, it has more than 1,000 registered users and is downloaded more than 2,000 times a month, demonstrating the extensive value for fabricators and installers, according to Epwin's representative.
The calculator builds on the support that the Epwin team offered through Connect, when the building regulations were updated last year. The Connect hub provided a range of practical guidance including hosting live-streamed Q&A sessions to assist customers in navigating the complexities of the new legislation.
Connect has been shortlisted in the Best Business Initiative of the Year and Customer Care Initiative of the Year categories at the G Awards 2023 (G23). Read more about the G23 Awards online at g-awards.com.