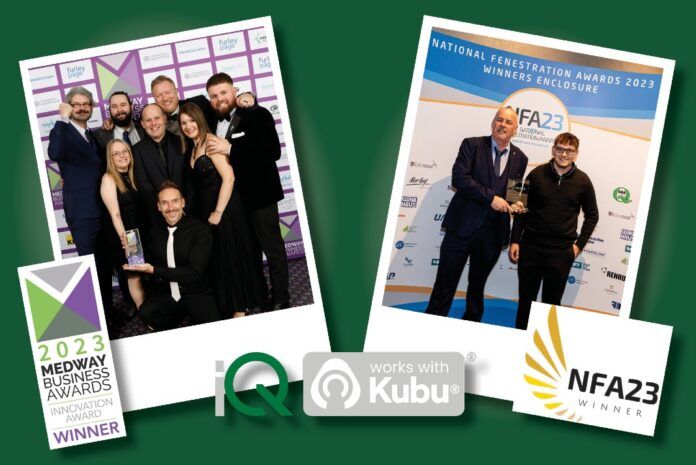 The VBH team has won the Product Innovation category at the Medway Business Awards. The trophy presentation ceremony took place at the Great Hall in Priestfield, Kent, on Friday 17 November. The news follows the VBH team's win at the National Fenestration Awards in October (Best Window Component).
The award was given for VBH's GreenteQ smart products: the Q-Smart fingerprint/app operated door handle and the more recently developed GreenteQ iQ range of security window locks and multipoint door locks. When visiting VBH House in September, the Medway Business Awards judges were impressed by how GreenteQ iQ locks can be quickly upgraded by adding a sensor to work with Kubu. This link windows and entrance doors to a smart home network.
Benefits to the end user include being able to check on the open/closed and locked/unlocked statuses of windows and doors via the Kubu app, as well as security and comfort alerts. Products fitted with GreenteQ iQ locks can also be linked to other elements of a network, such as heating and lighting.
"Installers who offer the GreenteQ iQ/Kubu concept are reaping the rewards of homeowners' hearty appetite for upgrading their new installation from the ordinary to the extraordinary," said Gary Gleeson, VBH's marketing manager. "If GreenteQ iQ locks are fitted to windows and doors as standard, it is a very simple and inexpensive process to link them to a smart network at any time if the customer wishes.
"VBH has been very successful in recent years. One of the keys to that success is the constant stream of new innovations that we are bringing to market, including our new smart products."
To find out more about GreenteQ iQ window and door locks, or any other hardware in the VBH range, call the company on 01634 263263 or email sales@vbhgb.com. You can also send them a Tweet via @vbhgb.