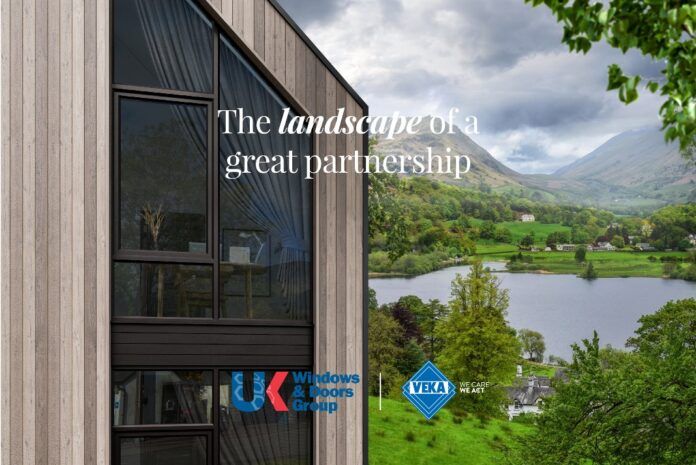 Representatives of UK Windows and Doors Group (UKWDG) and Veka PLC have announced the expansion of an already successful partnership between the two firms. Lancashire-based Veka already supplies UKWDG with the exclusive Evolution profile but the Veka team will now supply all of UKWDG's profile requirements from September this year, they say.
The two companies have been working together for the last 11 years and the relationship has gone from strength to strength, representatives have reported.
"The advanced product technology, professionalism, quality, service and strong operational support that we see from Veka led to them being the clear choice for us when looking for a profile supplier for the long-term," explained Matthew Scoffield, CEO of UKWDG. "Veka has already proven to be a stable, efficient and trustworthy supplier to our business. They produce high-quality products that are designed to last."
Veka is a family-owned business that has been leading the global development of PVC-U systems for more than 50 years, according to the firm's representative.
Commenting on the new agreement, Neil Evans, managing director of Veka PLC, said: "It's been great to work alongside UKWDG, owners of Evolution. We are extremely pleased to be expanding our partnership and it gives us a huge sense of pride that Veka will be UKWDG's supplier for the future."
Neil continued: "Signing this long-term supply agreement demonstrates immense trust in us. We will continue to repay that trust by delivering an excellent product backed by steadfast support. I expect that this relationship will flourish for many years to come."
The Veka team has worked hard to earn a clearly recognised differentiation in service delivery, its leaders say. They added that, due to significant investment in the firm's mixing plant and extrusion facilities, Veka has the capacity to integrate this new business alongside the company's already well-established customer base whilst guaranteeing the highest possible level of service and world-class delivery performance (OTIF).
"Veka has an unrivalled range and volume of stock, ensuring that they consistently deliver on their 'day 1 for day 3' promise," we were told. "Robust production planning techniques are in place to support this, combined with a workforce committed to delivering for customers."