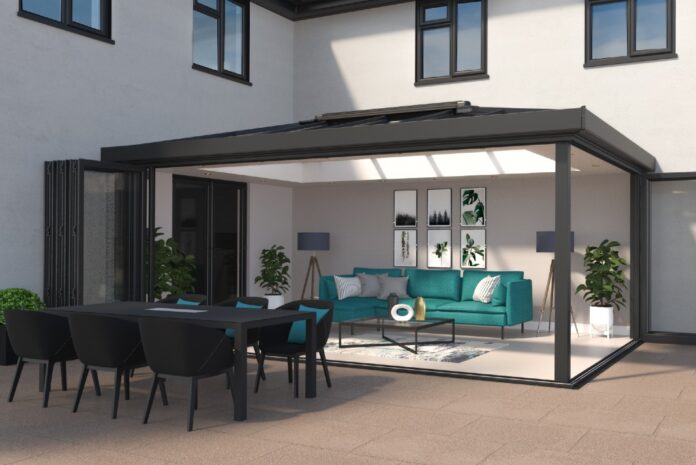 The conservatory and extension specialist, Ultraframe, has launched a new goalpost for its glass roof and Livinroof systems. The product will allow Ultraframe installers and builders to create open-sided grand designs with clear openings in excess of 6.5m, and doors in excess of 10m.
The new goalpost has been developed to provide a hassle-free route to structural support for the large spans of doors or clear spans that are now a key feature of many conservatory and extension designs. Alex Hewitt, Ultraframe's marketing director, said: "The designs that were once classed as grand designs, with large spans of doors or open space on two or more sides, are becoming more and more the norm. The stability of the roof on such designs needs careful consideration.
"Builders and installers would typically use their local steel fabricator to create a bespoke steel goalpost, and a structural engineer to do all the calculations. This involves a leap of faith that the roof and goalpost will work as they should when they come together, and means dealing with three different suppliers. Our new goalpost is specified at the time of ordering the roof. Ultraframe's in-house structural engineers use our bespoke software to run all the necessary calculations. The goalpost and roof are designed and manufactured to work perfectly together, meaning that ordering a goalpost from Ultraframe is simple and hassle free."
Along with being hassle-free to order, the new Ultraframe goalpost also offers huge benefits on site, the business claims. Engineered aluminium beams are as light as they are strong, they say, and come in lengths no greater than 7m. They can be joined with another post at a fixed point for larger spans. This means that they are light enough to be lifted into place, as opposed to hiring machinery such as a genie lift.
Ultraframe's goalpost can also be supplied with a beam deflection kit, which acts as a cushion or spring, allowing the header beam to safely deflect by up to 6mm without affecting the head of the door frame and the smooth operation of the doors below. The goalpost can be concealed within the Ultraframe internal pelmet, or left visible and powder-coated in the colour of the homeowner's choice. It can be used on any shape or style of Glass Roof or Livinroof extension.
For projects with bi-folds, the goalpost can be used on door spans of up to 6.5m. For larger-scale projects, featuring lift and slide doors with intermediate structural posts where the doors meet, doors in excess of 10m can be catered for.