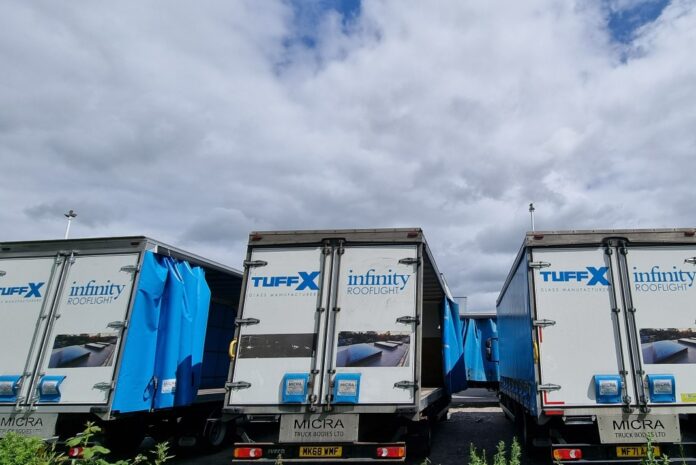 Safety glass specialist TuffX has invested in new graphics for its vehicle fleet. As part of a planned programme of investment to promote and grow production of its Infinity rooflight range, TuffX has updated all 44 vehicles in its fleet with the new graphics.
TuffX's Infinity brand includes rooflights, roof lanterns, walk-on and fire-rated walk-on glass units. They are available as either double- or triple- glazed products and in a choice of clear, solar and privacy glass. What's more, Infinity's unique 'drop-in-and-seal' design makes them super easy and fast to fit straight out of the box, they say, requiring no additional assembly on site. The business claims that its products is as popular with installers as with homeowners.
"Our Infinity range of rooflights and walk-on glass units, which includes our all-glass frameless-look rooflight, continues to be more popular than ever, and we intend to ensure we remain first choice," said Paul Higgins, TuffX's commercial director. "We deliver direct to site, in as little as three to four days for our standard sizes.
"Whether it's a commercial delivery heading out from our Merseyside base in our 13-tonne truck, or our 7.5-tonne truck making a rural delivery to a homeowner with restricted access, you won't be able to miss us now with our new graphics. To find out more about why we're shouting about our Infinity range, and why it's so popular with installers and homeowners alike, visit .tuffxglass.co.uk."