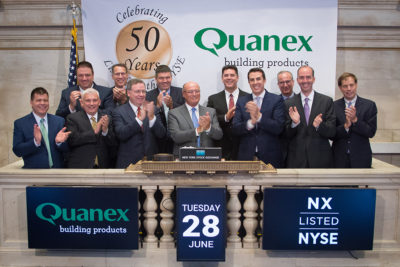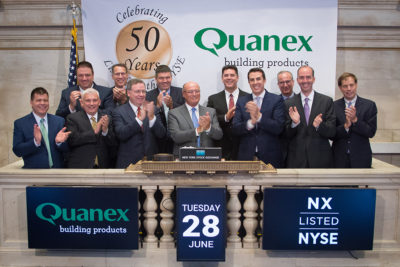 What do Nelson Mandela, Robert Downey Jr, Darth Vader and Liniar's Roger Hartshorn all have in common? They've all had the honour of being involved in ringing the closing bell at the New York Stock Exchange!
Liniar's parent company, Quanex Building Products Corporation, celebrated its 50th anniversary of being listed on the NYSE on June 28 and to mark the occasion, Bill Griffiths, chairman, President and chief executive officer, was joined by Roger and other members of the Quanex leadership team on the famous podium in Wall Street, New York City.
Bill had the privilege of ringing the bell at 4pm to signal the end of the day's trading.
Quanex is a North American supplier of energy efficient window and door systems and components, with $600+ million in sales listed on the NYSE. It acquired the Flamstead Group, which incorporates HL Plastics, the manufacturing company behind the Liniar brand, and Avantek Machinery, in June 2015, adding to its already impressive portfolio of businesses.
"It was an honour to be asked to take part," said Roger, CEO of the Flamstead Group. "It's not often that a lad from Derbyshire gets to help signal the end of trading on the New York Stock Exchange! We got to take a tour and it was fascinating to feel the buzz between the traders."
You can watch the video of the ceremony here http://bit.ly/RogerNYSE