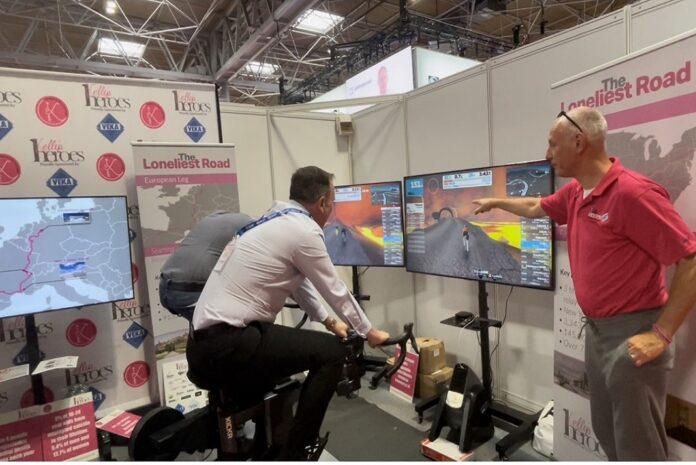 Mental health charity, We Mind & Kelly Matters (WM&KM) used this year's FIT Show to officially launch their latest charity challenge – nicknamed 'The Loneliest Road' – to the industry.
WM&KM was founded in 2019 by former Glazerite UK Group Chairman, John Hewitt, following the death of his daughter, Kelly. John and supporters of the charity hosted a stand at the show to highlight the work the charity does to raise awareness of mental health issues and support those who have been bereaved by suicide.
John said: "We had two exercise bikes on the stand and asked visitors to have a go at cycling 2.5 miles as part of our forthcoming 'Loneliest Road' challenge, which will see our fundraising team, Kelly's Heroes, cycle across Europe and the USA.
"We timed the efforts of those who took part in the fastest lap challenge, and I'm pleased to say Andy Parry of Everglade UK was the quickest, with a time of 5 minutes and 42 seconds! He was closely followed by Brisant's Gareth Turner, Made for Trade's Chris Wann, and John Armstrong of Armstrong Industries."
The charity was also able to use its stand to discuss mental health and the importance of talking and listening. John added: "We've seen that more employers are beginning to understand how someone's mental wellbeing is just as important as their physical health.
"One chap who visited us by chance to borrow a phone charger really opened up about his own struggles and that of his child. It was an emotional conversation, and we were mutually appreciative of each other's situation and the opportunity to talk.
"It just goes to show you never know what the person standing or sitting next to you has or is going through and being there at the show just to be able to reach out to this gentleman really made our presence worthwhile. We can all work together to show people they are not alone, and that's one of the reasons why we are undertaking the Loneliest Road challenge later this year."