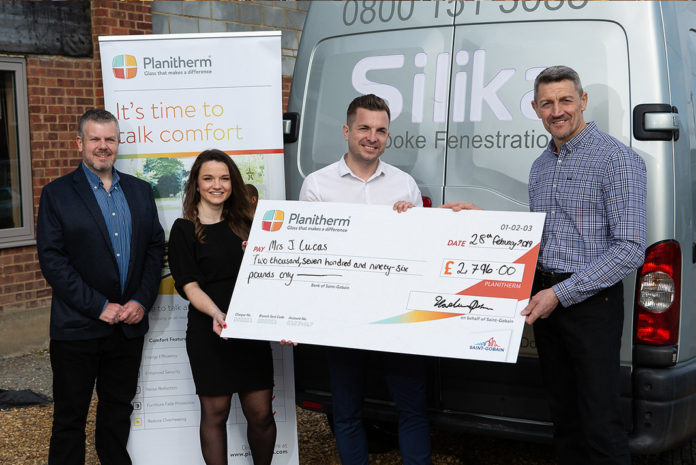 A homeowner from Chelmsford has become the latest winner of the Win Your Windows Back competition from Saint-Gobain Building Glass, claiming £2,796 to cover the cost of her new Planitherm windows.
Jane Lucas is the fourth and final winner of the quarterly prize draw, where Planitherm Network members have been encouraging their customers to win back the cost of their installation, up to the value of £10,000, to help launch the revitalised Planitherm Network.
Mrs Lucas commented: "I chose Planitherm glass as it retains heat in the house, therefore lowering my energy bills. The installer, Silika, installed the windows to a high standard, care and precision was taken to make sure they fitted perfectly and that I was very happy with the result."
Mrs Lucas was so pleased with the result of her new windows that she will be putting her prize money towards getting some further windows at her home upgraded with Planitherm glass.
Rod Charnick, director of Silika, said: "The new marketing material from Saint-Gobain Building Glass does a great job of explaining to the homeowner the benefits of the different options available in the range, helping them to make an informed decision as to the best glazing option for their particular needs. I was very pleased to hear that Mrs Lucas had become the latest winner of the Win Your Windows Back competition."
Since the beginning of the campaign, launched in January 2018, total vetted Planitherm Network members have risen from 369 to 425, while the number of users logging into the network portal has increased from 12 per month to an average of 76 per month.
Gary Tamburro, Glassolutions area sales manager, Canterbury, commented: "The Planitherm Network provides all the tools required to demonstrate the advantages from across the Comfort range. This coupled with the Win your Windows Back competition provides a great incentive to fabricators, installers and consumers to promote and invest in these options.
"Planitherm remains one of the best performing glasses on the market and really can make a difference to a property. The Comfort range only adds to this with a number of further benefits being introduced from security and acoustics to furniture fade protection."