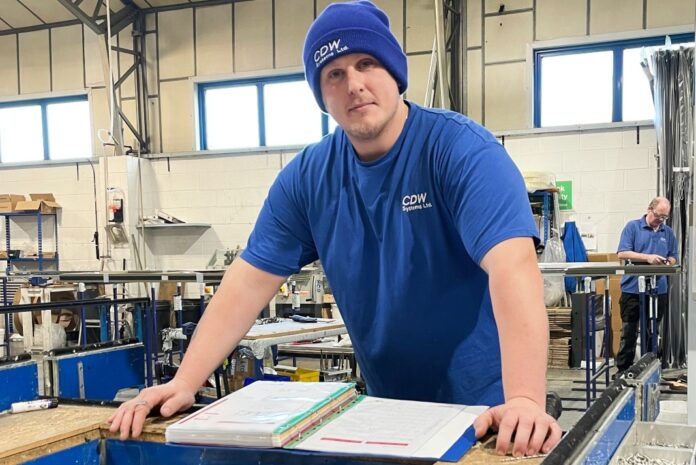 Leaders of aluminium fabricator CDW Systems have promoted Aron Steele to the role of team leader. Aron now works on the bi-fold line. The move continues the business' pattern of promoting from within.
Thirty-three-year-old Aron has been with the Gloucester-based company for more than five years on the shop floor. He said: "Working on the factory floor for over five years has been the perfect learning curve and has given me the skills and confidence for my new role as team leader. CDW Systems has provided me with the opportunity to progress through the business and I'm looking forward to continuing to work hard on the bi-fold side of the business."
Aron is set to be heavily involved in trialling the AluK Luminia F82 Slimline bi-fold Door. CDW Systems has fabricated Aluk's BSF70 folding/sliding door for years but is looking at introducing the F82 due to its thermal properties.
"The F82 is a much more thermally efficient and modern bi-fold with better sightlines, which is what customers continue to want," added Aron. "We are lining up training for that in the factory.
"It won't take over from the BSF70 but we are trying to be prepared for 2025. We want to be able to offer customers an upgrade if they want one."
Jeremy Phillips, CDW Systems' group chair, said: "I'd like to congratulate Aron on his promotion to team leader. He has worked his way up from the bottom and he put himself forward for the role. All credit to him as he's well and truly seized it and is doing incredibly well already.
"The skills shortage is a challenge in the industry but while it's important to recruit it's equally important to retain your best staff. Promoting from within is something we have always tried to do at CDW."
Established in 1992, CDW Systems is one of the UK's longest running aluminium specialists. The business celebrated its 30th anniversary last year. For more information, visit cdwsystems.co.uk or call 01452 414 853.