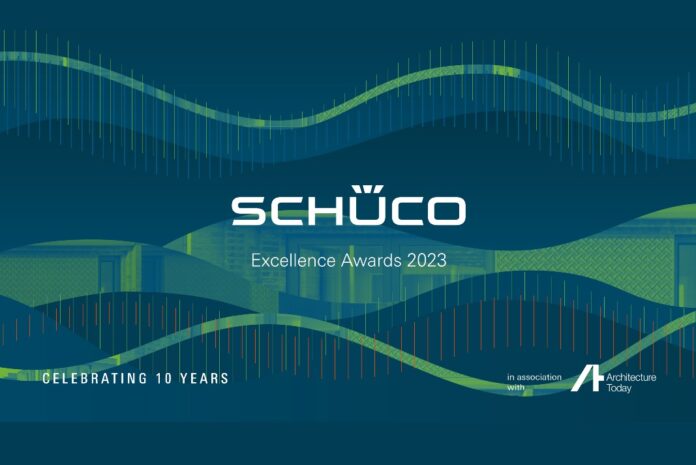 Entries are now being invited online for Schüco's Excellence Awards 2023. The aluminium systems company is this year celebrating the 10th anniversary of its Excellence Awards.
Entrants have until 26 April to complete an application. Visit excellence-awards.awardsplatform.com for full details and to enter the awards.
The Schüco Excellence Awards, held in partnership with Architecture Today, aim to celebrate the creativity, innovation, technical skill and collaboration behind the most successful building projects that use Schüco aluminium and steel systems. This year, a new award category has been added, the Major Project Award, for buildings with at least 1,000m² of Schüco façade. This is in addition to the 10 existing categories covering project types including education, cultural, health and leisure buildings; commercial and mixed use buildings; residential developments; individual houses; sustainability, steel and refurbishment; and adaptive reuse projects.
Every year, an overall winner is selected by the judges. In 2020, a People's Choice category was introduced where the winner is selected by fellow nominees on the day of the award ceremony. (Click here for our reporting on lasty year's Excellence Award winners.)
This year's judging panel welcomes new additions Holly Galbraith of Níall McLaughlin Architects, Barbara Weiss of Barbara Weiss Architects and Anna Wendt of Buro Happold – Integrated consulting engineers and advisers. Winners are due to be announced from the shortlisted nominees at a celebration lunch to be held at the Cutty Sark, London on 29 June 2023.
Nominees will first enjoy a drinks reception on board London's largest luxury paddle steamer. Tower Bridge is set to open for the boat before it proceeds up the River Thames to take guests to the Cutty Sark, where television presenter and architectural designer Charlie Luxton is scheduled to host the awards lunch.