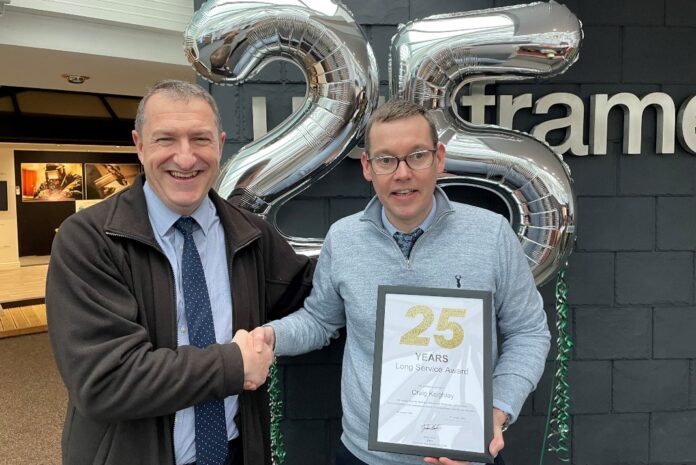 Craig Keighley has celebrated his 25-year anniversary working with the conservatory and extension specialist, Ultraframe. Alex Hewitt, Ultraframe's marketing director, presented Craig with champagne and other gifts on the day of his anniversary. Craig, who currently serves the firm as business unit head for lanterns and skylights, was also treated to an evening meal with colleagues.
"I have enjoyed the last 25 years at Ultraframe immensely and am proud to be a part of the business," said Craig. "The innovation and development is unrivalled, and the product solutions we create solve consumer problems in the lowest risk way possible."
In 1998, when Craig first joined Ultraframe as marketing administrator, the industry was enjoying the first flurry of homeowners looking to add extra light and space to their homes with a conservatory. The vast majority of those conservatories featured Ultraframe roofs, according to the manufacturer, as the company was the first to develop a systemised solution that offered 'the perfect combination of style, safety and technology', they say.
Craig added: "I have worked in a variety of customer-facing sales roles, internally and externally, over the years, and forged strong relationships with retailers and their sales teams. I have instilled them with the belief and confidence that they could sell value and achieve their goals. The feedback and recognition I received from this gave me a fantastic sense of value and gratitude. My new role as business unit head for lanterns and skylights is the start of another chapter and a prime example of how Ultraframe's ongoing success continues to reward dedication and hard work with opportunity."
Alex, Ultraframe's marketing director, said: "As one of Ultraframe's biggest advocates with customers and stakeholders across the industry, Craig has shaped many of our plans over his 25 years, always ensuring that the customer is at the heart of our innovation and launch process. Highly valued by every customer, Craig consistently strives to get the best results for everyone and demands the best of all of us. Green blood must run through his veins! He is fiercely loyal to Ultraframe and our customers."