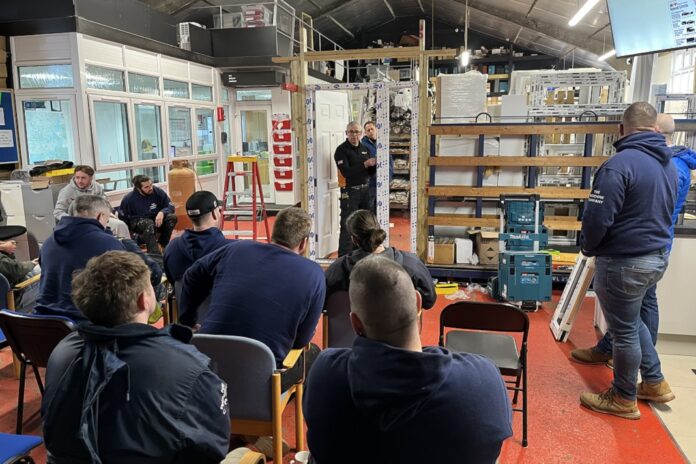 The Window Company (Contracts)'s 25-strong fitting team have received up-to-date FD30S fire door installation training ahead of the implementation of the new Fire Safety Act in England and Wales. The training is also set to help the team meet the Fire Safety (England) Regulation 2022, which was introduced in response to the Grenfell Tower inquiry's first report.
The commercial window and door installer specialises in the social housing sector, so its staff used a workshop from the firm's composite door supplier, Solidcor, to demonstrate how compliance has changed with regard to fitting entrance doors in flats and in common areas in multi-storey buildings, we understand. During the workshop, fitters were shown how to check deliveries, frame and fire door installation, door closer adjustment and how to complete installation records, which are are requirement under the new regulations.
This training adds to the International Fire Consultants accreditation that the Window Company (Contracts) already holds for installing fire doors. It also ensures that its team has a specific understanding of how to fit the Solidcor FD30 BS476 Part 22 1987-approved fire door, which has reportedly been tested and certified on both sides.
"This was a valuable update and refresher for all our teams, who are likely to be busier than ever this year carrying out fire door installations now that the recommendations on fire safety from the Grenfell Tower inquiry have finally come into force," said Katie Thornton, director of compliance and administration at the Window Company (Contracts). "We're obviously delighted to see the recommendations implemented – particularly those relating to the requirement for quarterly checks on fire doors in common areas and annual checks on fire doors in flats over 11m high.
"But we firmly believe that fire doors should only be fitted by fully trained teams in the first place. We'll continue our efforts to communicate that to all our clients in both the public and private sectors."