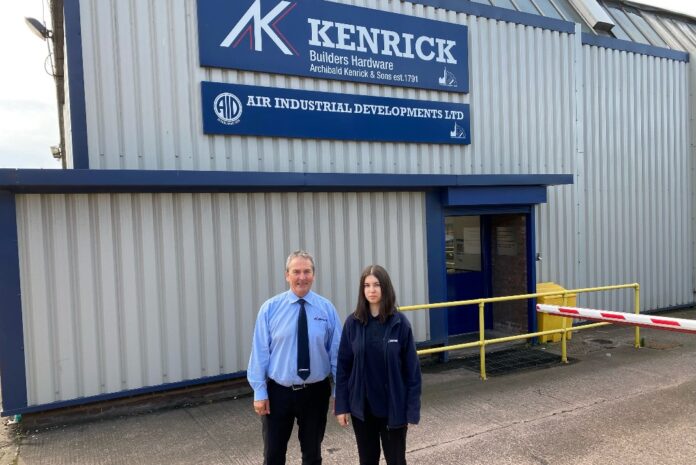 Leaders of the hardware supplier Kenrick have recruited the business' fourth apprentice. In doing so, the business' representatives aim to help address the industry's skills shortage and encourage more people into a career in fenestration, they have claimed.
17-year old Violeta Marcu has joined the West-Bromwich-headquartered hardware supplier as part of her Level 3 qualification in business administration. Violeta is supported by the Wolverhampton-based training provider, Nova Training. Kenrick's senior management team has been so impressed with her that it plans to offer her a permanent role after she has completed her apprenticeship in February next year.
As part of a varied role, Violeta is responsible for managing Kenrick's orders, looking after customers and coordinating the transport of goods. She also works closely alongside the product development and health and safety teams within the business.
"I felt so welcome as soon as I joined Kenrick," said Violeta. "Everybody here is valued, and the environment and work ethic is terrific.
"I enjoy every day at Kenrick," she added. "There is a lot of variety in my role, and I am constantly learning new skills and picking up useful product knowledge. The vast majority of our customers are delighted with our service, which is not only a credit to the team but allows me to broaden my experience beyond customer service into other departments at Kenrick."
Steve Jones, Kenrick's managing director, said: "The skills shortage is an ongoing issue for the window industry, especially with obstacles like Covid-19, the war in Ukraine and the rising cost of living proving challenging. At Kenrick, we're proud to have a highly skilled and experienced team. But we want to inspire the next generation into an exciting industry – and one that can give them a great start to their careers. Violeta has already proved to be a really valuable addition to our team and we hope that she will have a long and fulfilling career at Kenrick."
The team at Kenrick is keen to hear from talented people who want to join the team. To find out more, email sales@kenricks.co.uk or visit kenricks.co.uk. Click here to read more about Kenrick's recent recruits.