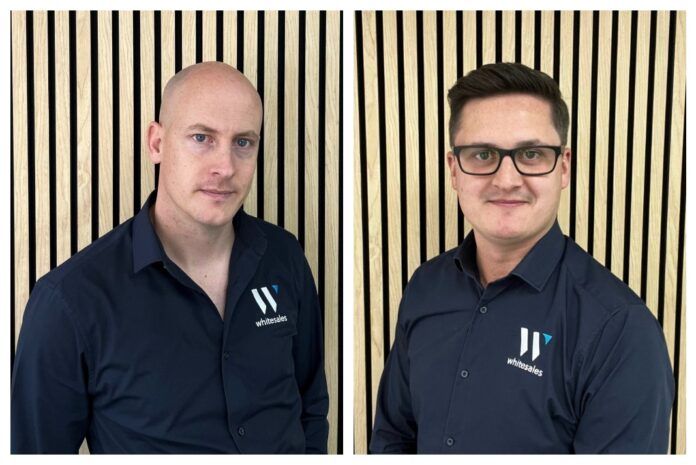 Leaders of Whitesales have appointed two salespeople to look after fabricators and installers buying the business' range of rooflights and lanterns: Piers White and Karl Grandfield. The duo may well be familiar to people who visited the this year's Fit Show, as they were the double act team that assembled the SkyVu lantern on the Installer Stage.
Piers looks after customers in the south and Karl looks after customers in the Midlands and north. The two work as a team, using their shared knowledge and experience to help customers make the most of Whitesales' product range and service offering, a representative of the business explained.
"Fabricators particularly like the fact that Whitesales holds so many rooflight sizes in stock," said Piers, who has worked at Whitesales since 2012, in a variety of customer service and sales roles. "Whitesales also offers fast delivery straight to site."
Karl spent 12 years as a carpenter, fitting windows and doors, before he joined the Whitesales in 2015 as a contracts manager. He added that customers "really value the fact that Whitesales doesn't manufacture any other products apart from rooflights, so will never compete with its own customers on windows and doors".
Whitesales fabricators now benefit from a support package that includes literature, product samples, a technical advice line and an online product configurator. The Whitesales team also offers a free quoting and drawing service for commercial projects.
"Piers and I are focused on building great relationships with fabricators, which we know we can back up with quality products that suit this market perfectly," said Karl. "We're incredibly excited about the scale of this opportunity for our business, and for all those fabricators who choose to partner with us."
Piers added: "We know that we can offer fabricators a better way to buy their rooflights, saving them time and hassle, and helping them make more money." For more information about the Whitesales proposition for fabricators, visit this fabricator-specific link..