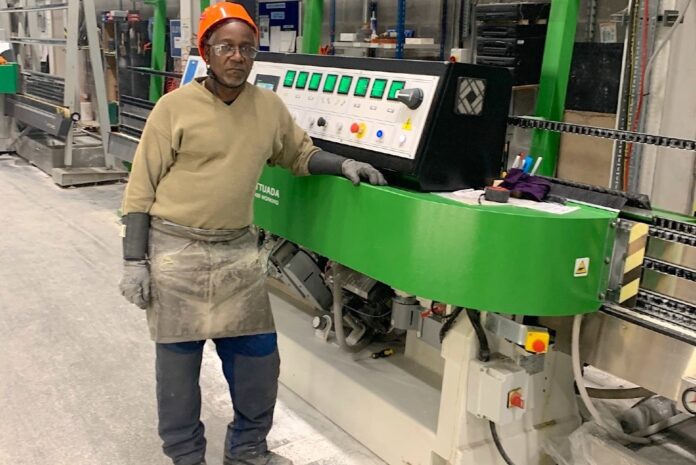 Richard Thompson is retiring from Mackenzie Glass at the end of the year, after nearly 50 years in the glass industry. Richard started working for Bristol-based glass processor Cashmore and Co after school in 1973.
"I didn't actually look for a job," Richard said. "I finished school on the Friday and started work at Cashmore's on the Monday. My schooling was poor but I was put to work immediately cutting and polishing glass, working my way up to bevelling and operating the new machines that the company invested in."
Cashmore's went through a few changes in ownership over the years, including Pilkington Glass. Cornwall Group company Mackenzie Glass acquired the site in 2017, becoming a Pilkington Regional Partner in the process. All the while, Richard stayed with the business, learning the glass processing trade and helping build the merchanting business it is today.
"I found I was rather good with the drilling," Richard explained. "If you could drill holes accurately without breaking the glass, you were in great demand!
Richard also explained how he learned techniques that have now been taken over by machinery. "When bevelling mirrors, without machinery you had to do it blind," Richard said. "You would have to rely on your own knowledge to produce the right bevel because it was face down, and you couldn't see what you were doing underneath.
"But I've seen some great developments in the machinery we use. Specifically, there is less wear and tear on the cutting wheels today, giving a much more consistent finish on the products."
The speed of processing has also improved significantly with the advent of machinery. "If you take a dressing table, with one main mirror and two wing mirrors, that would have taken about a day to complete," Richard said. "The same job today will take no more than 20 minutes.
He added: "Back then, safety equipment was thin on the ground, and not many people wore gloves. We were handling glass as though it were wood. Obviously, all that has now changed, and we use all the latest PPE at Mackenzie."
And what does Richard plan to do in retirement? "I'm looking forward to pottering around," he said. "I'm also looking forward to exploring the area around Bristol – especially the places where my partner wants to go!"
Mark Herbert, Mackenzie Glass' joint managing director, said: "It has been a pleasure to work with Richard at Mackenzie Glass, having the chance to tap into nearly 50 years of knowledge and experience has been invaluable. Richard is a charming chap with many stories and wise words to share.
"I wish Richard a long and happy retirement. He will certainly be missed by the team at Mackenzie's – it is truly the end of an era."