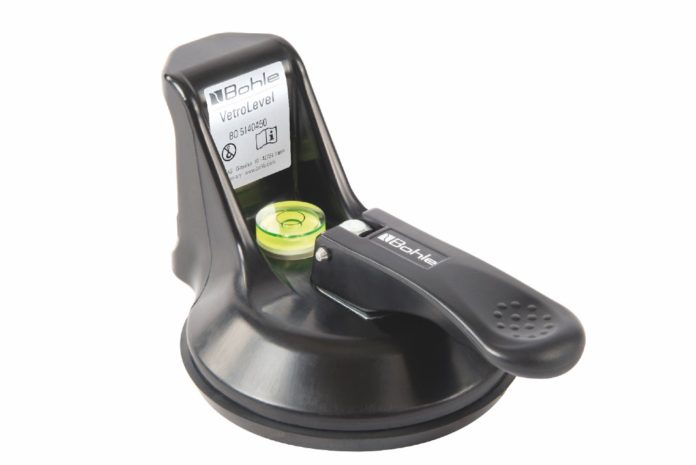 Bohle has launched VetroLevel, an innovative, suction-mounted device that allows installers to align glass more efficiently, with greater accuracy and with improved safety. Incorporating a 90mm suction pad, the BO5140450 VetroLevel combines the proven technology of Bohle's Veribor lever-activated suction lifters, with three, independent spirit levels.
Once secured to a glass sheet, VetroLevel allows users to work 'hands free' to ensure panels are aligned; Bohle says that this significantly reduces the risk of personal injury or damaged product. Designed for use with all non-porous sheet material as well as glass, VetroLevel is particularly suited to the fitment of Bohle's VetroMount balustrades, FrameTec partitioning, MasterTrack sliding doors and glass shower installations.
Dave Broxton, Bohle's managing director, said: "Like all great ideas, the simplest ones are quite often the most effective! The VetroLevel is based on one of Bohle's most popular and trusted products, the Veribor manual suction lifter – a tool that many of our customers will already be very familiar with.
"Up until now, many fitters will be used to juggling a spirit level with a sheet of glass when attempting to align glass panels, but with VetroLevel the job is made so much easier, and you don't have to compromise on safety. It's like having an extra pair of hands.
"It guarantees accuracy every time," Dave continued. "You simply secure it to the glass or sheet material as you would with a Veribor manual lifter, and then use the spirit levels to ensure it is aligned on each of the three axes.
"We're confident that VetroLevel is going to become the glazier's new best friend! For quick, accurate and – above all – safe installation of glass, once they try VetroLevel, they are going to wonder how they managed for so long without it."
For more about Bohle's product and service offer visit www.bohle.com, email info@bohle.ltd.uk or call 0800 616 151.