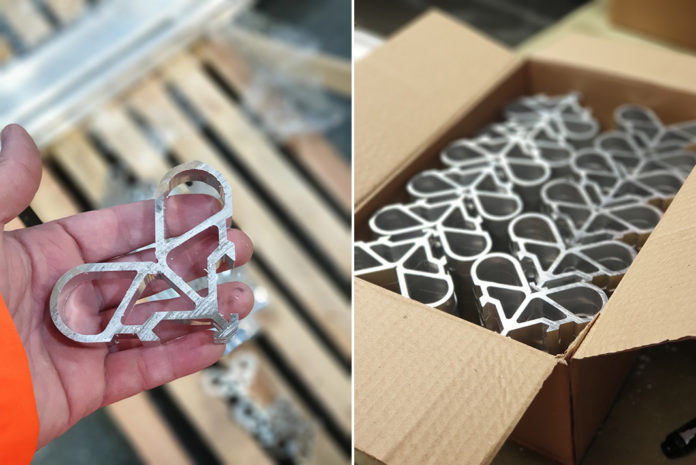 Anglo European has launched a new aluminium bi-folding door cleat offer, which it says will cut fabricator manufacturing costs.
Defined by its distinctive 'heart' shape, Anglo is said to have started manufacture of its aluminium bi-fold corner-cleat just before lockdown.
Available for a range of leading systems, including AluK, the Anglo corner cleat features an increased wall thickness, and is supplied at a purchase price that is reported to be roughly half that of systems companies.
Designed and manufactured in the UK, the Anglo cleat is extruded by its 'in-house' aluminium extrusion business, Aluminium Shapes, and cut using a dedicated high precision saw with the capacity to process a cleat every 10-seconds.
Lee Marriott, group business development director at Anglo European, said: "The shape of the cleat is as a heart, but it isn't a gimmick – it actually makes alignment easier.
"If you're trying to slot in a standard cleat with right angles it can be 'clunky'. They catch. The curves on our cleat mean that it 'self-locates' as it slides in.
"This makes fabrication a little bit quicker but at roughly half the price, the savings to the fabricator are far more substantial, especially against a wider context of increased market demand."
According to pre-COVID-19 forecasts by AMA Research in the Bi-fold Doors Market Report – UK 2020 to 2023 published in February, aluminium bi-folding doors were expected to see growth of 7% through to 2023.
"What lockdown and Covid-19 has done to those projections is still unclear but from the conversations I'm having with people right now is that demand for bi-folds has come back very quickly, during and since lockdown," Lee says.
"If you can cut one of your component costs in half and increase your margin on every frame, why wouldn't you?"