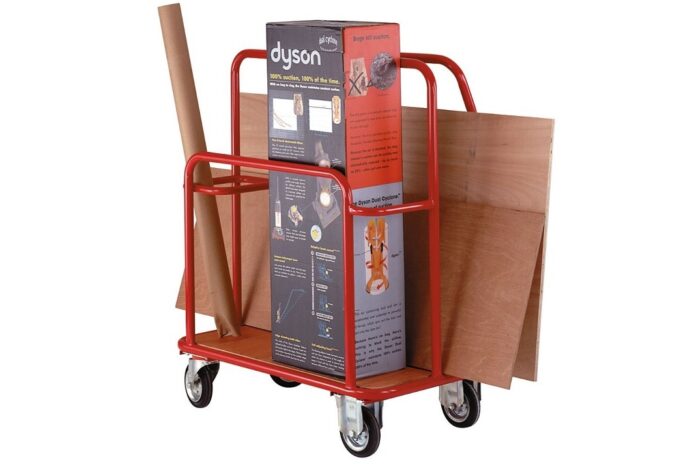 Leaders of First Mats, an online retailer best known for matting products, have launched a new and improved range of board trolleys. The expanded range is designed to cater to various industrial and commercial uses, with new trolleys for carrying sheet products, including plasterboard, fence panels, glass sheets and tube and bar materials.
Board trolleys are specialised equipment designed to transport boards, panels and other flat sheets of material in an upright position. They are a go-to solution for transporting materials such as plasterboard, plywood, MDF and other large, flat sheets.
Available in various sizes and equipped with casters or wheels that are tailored to the application's specific needs, board trolleys are a crucial piece of equipment for any builder or tradesperson who handles large, flat sheets of material or sells fence panels and sheet materials, said the retailer's representative.
The team at First Mats has worked hard to ensure that customers have the best information available to make the right choice for their needs. The board trolley range includes the British-made LoadAll Folding Plasterboard Trolley, board and long goods platform trolleys, and the specialist Beam Kart Panel Buggy.
"We're excited to introduce our new range of board trolleys," said Richard O'Connor, marketing director at First Mats. "Our goal is to provide customers with the highest quality and safety standards, and we believe this new range does just that.
"We've extensively reviewed our pricing to ensure we're offering the most competitive rates in the market, and we're proud to offer free delivery across mainland UK, with most models available in 3 to 5 working days from order."
First Mats has earned a 4.8/5 star Trustpilot rating. The company is committed to offering quality safety products at competitive prices, backed by excellent customer service, according to First Mats' representatives.
For more information about First Mats' range of board trolleys, visit the retailer's website.