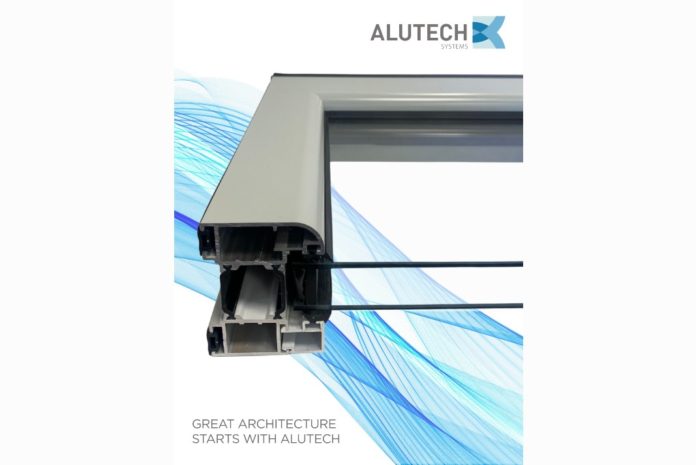 "Aluminium doesn't have to be so square," according to Alutech Systems, a business that hopes its latest product launch will be a big hit with trendsetting homeowners wanting 'something a bit different' for their property, enabling them to stand out from the rest of the street. The Yorkshire-based systems house, which claims it is rapidly growing, has introduced a new, curved edge aluminium profile, as a premium option to its increasingly popular BF73 systems for bi-folding doors, French doors and single doors.
The rounded edge of the external facing sash gives the illusion of even slimmer sightlines, which are already slimmer than 68% of the market, the business claims. Available in all the same colours as the standard BF73 profile, the new curved sash gives fabricators and installers the opportunity to increase their margin per door leaf.
Steve Hudson, Alutech Systems' managing director, said: "We're always looking for ways to help our customers stand out from their competition and make more money. Not only does our new curved edge sash do exactly that, it also looks amazing too."
Mike Moulds, Alutech Systems' sales director, added: "Our new, rounded profile gives even more versatility to our BF73 system, which takes away the headache of having to stock multiple systems by offering fabricators one system that caters for all door styles. Whether the project is a single door, French door or bi-folding door, they can all be fabricated from the same BF73 system. The system is so versatile that it can cater for projects that call for shaped frames, fixed frames, sidelights, astragal bars, blinds in glass, and it can even be used as an entrance door with optional inserted aluminium panels."
The BF73 system has been designed to be quick and easy to fabricate and install. The system offers a unique adjustable jamb feature for maximum adjustability during the installation stage. The optional adjustable jamb offers easier installs with 4mm tolerance.
See Alutech Systems' bi-folds in person on stand M40 at this year's Fit Show, the glazing industry's flagship exhibition, which is due to take place at Birmingham's NEC, from 26 to 28 September. Alutech also has a whole host of exciting new products launches to display at the show, its representatives say.
For more information about Alutech, call 01924 350 110 or email chloe@alutechsystems.co.uk. Alternatively, visit www.alutechsystems.co.uk or follow the business on social media (@AlutechSystems).