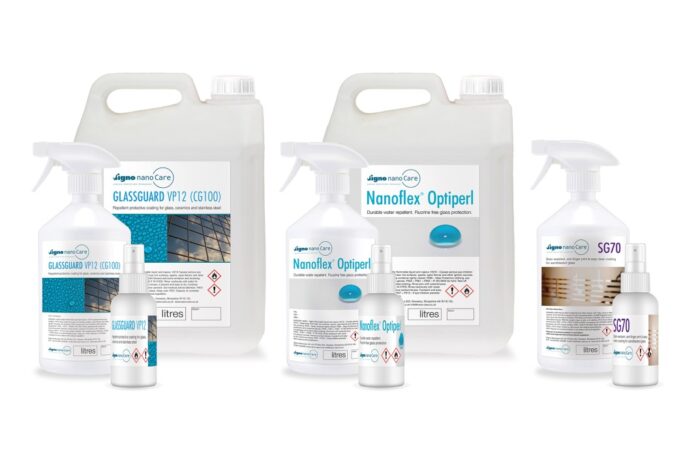 Nano coating specialists Signo Nanocare are launching a fluorine-free glass and ceramic easy-clean coating: Optiperl. With a new and impressive 'water-glide' functionality, combined with environmentally responsible, fluorine-free technology, it meets the green "high bar" by excluding all chlorofluorocarbons (CFCs) and perfluorochemicals (PFCs) – which are particularly harmful to the environment.
Optiperl provides:
• Unique water glide beading and
• Strong non-stick dirt repellence.
Developed for use on glass and ceramic surfaces – particularly shower glass, as well as window and construction glass, Optiperl provides the following benefits:
• It is invisible to the human eye (coating thickness approx' 150nm);
• It is UV stable, abrasion resistant;
• It is temperature resistant;
• It offers a simple, one-part application process onto clean surfaces;
• It is chemically resistant between pH 2 to pH 13;
• It is fluorine-free.
Optiperl sits within Signo Nanocare's glass protection range alongside Glassguard VP 12, an easy-clean coating that has superb UV resistance, making it highly suitable for repelling bird droppings on external and automotive glass. Glassguard gives glass, ceramics, stainless steel and polished porcelain or polished natural stone a reliable, long-term, non-stick easy-clean performance.
Nanoflex SG 70 is a simply applied, one-part, anti-fingerprint hydrophobic glass coating that has been specially developed for use on sandblasted or etched glass. It protects sandblasted glass aesthetics from being compromised during installation or its lifetime, as grease and dirt can be easily removed.
All products can be purchased online. Visit nano-care.co.uk/shop to apply for a trade account. Alternatively, call 01691 654 282, or email Info@nano-care.co.uk.