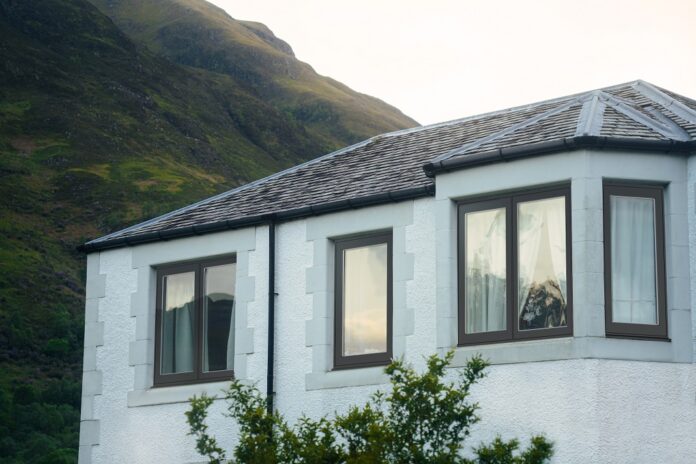 Deceuninck Aluminium has launched its new 'ultra-energy efficient' Decalu88 flush casement window. Headline U-values are as low as 0.8W/m2k – a Passivhaus equivalent level of performance, according to the manufacturer's representatives. The product achieves 1.2W/m2k with a standard unit.
"You can switch to this product tomorrow and immediately up sell in retail on thermal performance and aesthetics," said Nigel Headford, director of Deceuninck Aluminium. "In commercial and new build markets you're going in with an incredibly competitive offer because you can hit Part L new build requirements with a double-glazed window without having to go to triple glazing. That is an enormous win."
Nigel added that headline U-values of as low as 0.8W/m2k triple glazed also meant that the Decalu88 flush casement had the Future Homes Standard 'sewn-up'. "You don't have to worry about if your system is going to get you there in 2025," he said. "You can start fabricating today and know without a seed of doubt that you're also good for the future."
The Decalu88 flush casement is built around a patented thermal break which helps to deliver the Decalu88 flush casement's thermal performance. In common with the Decalu88 bi-folding door, the casement window features a knock-in glazing bead with a flush finish pre-inserted gasket.
With a flush finish internally as well as externally, the Decalu88 flush casement is available from Deceuninck Aluminium in dual-colour and metallic finishes, and marine grade, as standard. The new Decalu88 flush casement was designed by a UK design team and in partnership with existing Decalu fabricators.
Nigel added: "We knew we needed a flush casement. In that set of circumstances there's always a temptation to try and rush something through to tick a box. We didn't do that. The Decalu88 flush casement is the product of a lot long hours and a lot investment from the team here in the UK.
"We worked with fabricators then over a 18-month period went through 49 different iterations of this product before we got it 110% right – and then we tested it with fabricators again! The product that we have today is, however, worth every late finish and a reflection of the passion and drive which has underpinned this project and why it will deliver immediate wins for fabricators."
In addition to the Decalu88 flush casement and the Decalu88 bi-fold, the Decalu range also features the Decalu88 entrance door, Decalu163 lift-and-slide and a range of casement, reversible and tilt-and-turn window options. This includes the company's Stell and New Steel options.
The modular system has been developed to offer fabricators and installers a series of manufacturing and installation efficiencies, reducing production times by 40% plus across its offer, representatives of the business have said. For more information call 01249 816 969, email info@deceuninck.co.uk or visit the company's website.