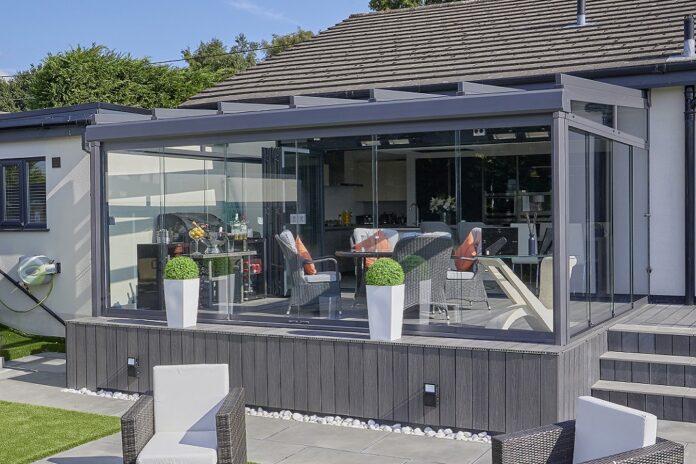 The CRL outdoor living collection offers 'a wealth of opportunities to make the most of a property's exterior, whatever the weather,' according to CRL's representatives. All year round, CRL's glass rooms and louvred pergolas provide a comfortable environment to enjoy outdoor areas while protecting from the changing seasons, they say, whether in sun, wind or rain.
CRL's glass rooms are completely bespoke, with a range of fitting options available, representatives of the business have said. The wall-supported option can be chosen with just two vertical supports, with a projection of up to 6m and a simple, two-post design for a minimalistic look, while using three or more vertical supports. The CRL glass room can span even the largest of spaces, its creators have said. Tricky corners can be negotiated with a wall-supported glass room that has a 90° corner, giving a dual aspect across the outdoor area.
"For even more flexibility in outdoor living design, the new CRL freestanding glass room can span areas up to 6m by 4.5m with a maximum height of 3m, which is ideal to cover hot tubs, pools and outdoor kitchens, and allows them to be used even in inclement weather," said CRL's representative. "By combining multiple freestanding glass rooms, large areas can be spanned, ideal for commercial purposes.
"Just as flexible are CRL's louvred pergolas. The remote-controlled bioclimatic slats on the freestanding structure are easily adjustable to let light through and promote airflow while keeping out harsh glare. Alternatively, they can be completely closed for protection from the rain.
"CRL glass rooms and pergolas have a modern progressive design. All the individual components, such as rafters and wall connectors, have been designed to complement each other perfectly, creating a sophisticated and modern appearance.
"Its timeless design integrates seamlessly with almost all types of architecture, and with optional extras including blinds, heating and lighting, it is simple to create an outdoor living space in keeping with its surroundings." For more details call 01706 863 600, email crl@crlaurence.co.uk or visit CRL's website.