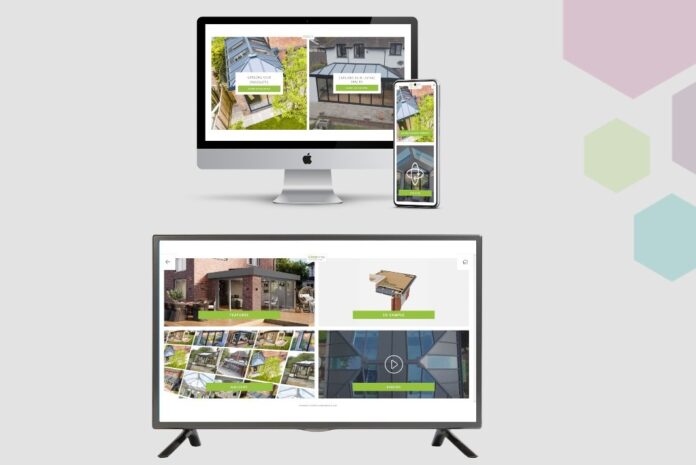 The Ultraframe team has launched an online kiosk that unites the business' online sales tools. The kiosk was designed for use on websites, showroom screens and when selling in the home. It is available to Ultraframe customers with immediate effect. The system includes Ultraframe's roof designers, digital samples, virtual reality tours, product videos and professional imagery.
"We already have a fantastic range of hardworking, online sales tools available to our customers which have been designed to generate and convert sales leads," explained Dan Bradley, Ultraframe's digital marketing manager. "A huge number of our customers already benefit from using the tools. It made sense to bring them all together in one place, to create a truly compelling package to assist with selling our systems."
Chris Vincent, managing director of Lifestyle Windows in Derbyshire added: "While we already use the tools that are within the kiosk, having them in one easy-to-access place will make it even simpler for us to explain and sell Ultraframe products. The kiosk will be a great addition to our showroom and a useful tool for home visits too."
The kiosk allows users to easily showcase the full Ultraframe product range. It can be navigated by either roof/product or style of living space (for example the range can be segmented by extension, orangery etc.) The kiosk's video and gallery section is populated with professional Ultraframe imagery and videos but customers can also choose to add their own to these sections should they wish. Additionally, the kiosk can be accessed via any web browser and on any device, including tablets and laptops. The platform is fully responsive. To find out more, email the Ultraframe marketing team at marketing@ultraframe.co.uk. Product information can be found at trade.ultraframe-conservatories.co.uk.