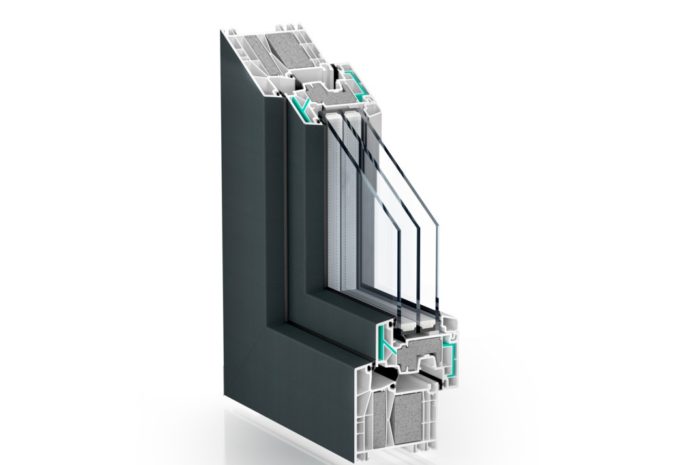 Thanks to ProStratoTec technology, Kömmerling's System 88 tilt and turn platform can now achieve the Dr Feist Passive House standard, in full colour. An innovative manufacturing process using the high-tech material Ultradur, from BASF, is firmly integrated into the profile structure using a tri-extrusion process, making it possible to do without steel, even with coloured and foiled profiles.
Historically, System 88 has only been able to achieve the Dr Feist Standard in white. This latest innovation offers far greater possibilities for building specifiers, with a certified Uf = 0.79 W/(m²K). PVC-U window profiles with fibreglass-reinforced ProStratoTec material are characterised by a high degree of dimensional stability and rigidity. ProStratoTec is extruded, similar to PVC. The material can also be recycled, separated perfectly using colour sorters and later fed back into the production process as valuable recycled material.
ProStratoTec helps insulate much more effectively than steel, and drastically improves a window's heat transfer coefficient. There is also a weight saving which pays off in production, transport and installation, especially with larger window elements. As there are no other restrictions or changes in manufacturing and installation processes, PoStratoTec products can be processed on any production line, without any special conversion.
Robert Thiroff, managing director of Profine UK and the Kömmerling brand, said: "Our System 88 platform is a flagship product from a technical perspective, and this latest development of ProStratoTec opens up considerable opportunities in colour, whilst meeting the important Dr Feist Standard. Innovation, research and product is very much part of the Kömmerling DNA, as is our commitment to a better world for all."
For further information, visit profine-uk.com, email enquiries@profine-uk.com or call 01623 579 200. Kömmerling's dedicated site is available at kommerling.co.uk. You can also follow the brands on social media platforms, including Twitter, via @profineuk and @kommerling_uk.