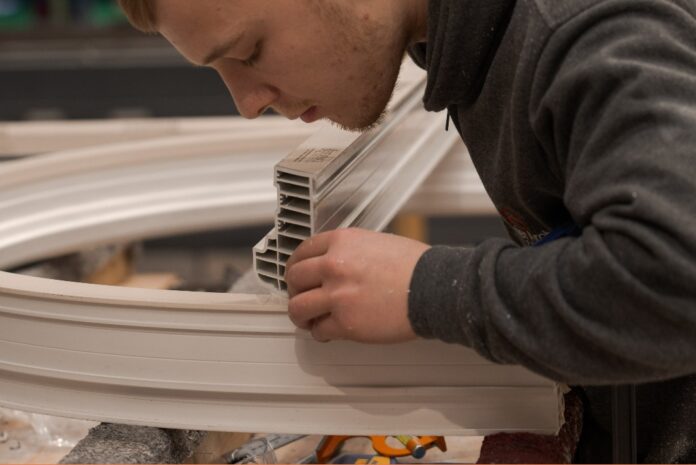 In today's post-pandemic trading climate, fraught with lingering supply chain issues and subsequent price increases, all fabricators are looking for reliable suppliers who won't compromise on quality. It's one reason why, when it comes to manufacturing arched frames in particular, PVC fabricators often opt to buy them in rather then becoming caught up in the complicated and time-consuming processes it takes to make them.
One company that promises competitive pricing matched with exceptional quality is arched and angled frame manufacturer Premier Arches. Based in St Helens, the company manufactures arched, angled, gable, circular and entirely bespoke windows and doors in a range of seven stocked systems including Residence 9. The business offers a full service to fabricators, trade counters, installers and local builders.
The company is of course among a host of arched frame manufacturers across the country. So what makes Premier Arches stand out from the competition?
Exceptional manufacturing quality
Sean Greenall, managing director of Premier Arches, explained: "Premier Arches was founded six years ago by myself and my two brothers, Thomas and Daniel, after all three of us found ourselves frustrated with the messiness of the arched frame sector. Tired of being let down, we decided to go it alone. Today, we operate on three core principles – exceptional manufacturing processes and quality control, clear and honest customer service, and a 'make life easier' offering.
"Manufacturing arched frames requires particular skills and precise machinery. In the past two years, in addition to relocating to a 10,000ft² manufacturing facility, we've invested in new state-of-the-art machinery, streamlining our processes and ensuring we produce the best quality products possible."
Outstanding customer service
Even the best products need exceptional customer service to back them up, and at Premier Arches, this is paramount. "Our team has a passion for getting the product and service right for our customers," added Sean.
"We're well aware that with the complicated process of manufacturing arched frames, things can go wrong. But we always strive to be open and honest with our customers. If something goes wrong, or is delayed, we will tell them."
It's clear that customer service goes a long way, as shown in a recent online customer survey Premier Arches carried out. The business scored top marks for finished manufactured product quality, customer service, product turnaround speed, value for money and easiness to deal with.
Making life easier
Because arched and angled frames are in themselves complicated and time-consuming to manufacture, by focusing solely on these products, Premier Arches aims to make fabricators' lives easier. "When it comes to profile bending, most PVC fabricators simply don't have the time, the tools, or the expertise to carry this out in-house. Our goal with Premier Arches is to make that entire process simpler and pain-free, and supply the awkward products that others don't want to make," Sean added.
"We're also seeing more and more of our existing customers choosing to order fully fabricated frames from us, including sashes, accessories, glass and composite door slabs. This offering means our busy fabricator customers don't need to mess around with glass templates or finishing arched frames in their own streamlined factories that are set up for speed."
Yet another important way Premier Arches helps to make life easier is with their new pricing and online ordering platform, allowing fabricators to get quotes within seconds, compared to what can often be a several day wait for quotes and order acknowledgements. "Pricing and ordering arched and angled frames has been a complex and time-consuming job for years, but our custom built revolutionary online pricing and ordering platform has changed this," said Sean.
"Waiting days for arched window and door quotes can cost fabricators the job. But we've seen first-hand the impact this platform has had on streamlining our customers' processes."
Ahead of the curve
Premier Arches claims to be ahead of the curve when it comes to providing the specific products fabricators need, when they need them, thanks to their three core principles. Sean concluded: "Everything we do, change or introduce at Premier Arches links back to one of these principles. Practicing what we preach is what makes us such an attractive option for arched, angled, and difficult to manufacture frames.
"If you're on the lookout for a reliable arched frame manufacturer you can trust, give us a call today. We'd love to hear from you." Visit premierarches.co.uk.