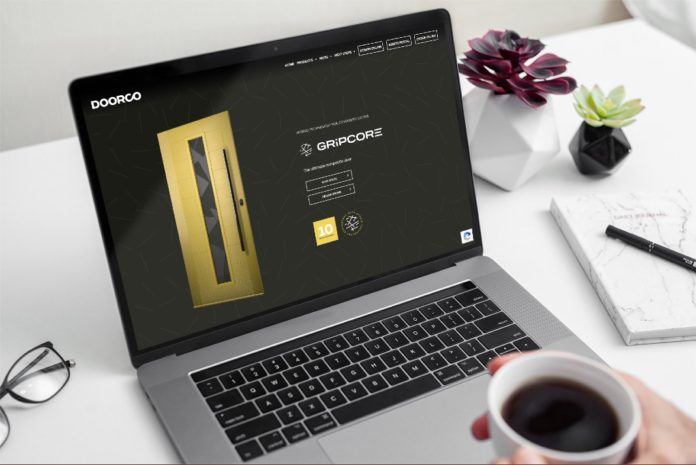 The Consultancy, a digital solutions provider, has delivered once again for the manufacturer DoorCo, with a brand-new website which supports the composite door specialist's new branding, product launches and revised market positioning. The website showcases DoorCo's entire product range in real style, and successfully communicates the company's distinct offerings for fabricators, installers and homeowners.
As well as updating the design, the team at the Consultancy has focused on the user experience, making sure that visitors can easily access asset libraries, download brochures and view imagery in studio and real-life settings. The team has also updated the bespoke door designer function, which they created for the original DoorCo website, so that it can continue to generate valuable retail leads which can be passed directly on to DoorCo customers.
The assets portal includes brochures for DoorCo's clever new Flip glazing cassette system with foam in place technology, new Gripcore solid core composite doors and Original foam standard composite doors. Visitors register details online to access the portal, giving DoorCo an easy way of tracking the success of the new website and analysing customer trends.
The Consultancy's partnership with DoorCo began with the development of the website which launched the DoorCo product range to the wider market more than a decade ago. Ben Aspinall, Doorco's IT and marketing manager, said that the strength of the relationship between the two businesses and the level of trust that has built up meant that DoorCo never considered going anywhere else for the new site. He said: "The whole Consultancy team are easy to talk to, always available for support and accommodate all our help requests with minimal fuss.
"We've made some big and bold investments this year, in new products and a new brand which better reflects our values and market leading position. We knew that, when it came to presenting all of that online to retail as well as trade customers, we could only entrust it to the industry's leading experts in web development and usability. We're really pleased with what the Consultancy has delivered for DoorCo. It has massively elevated our online presence and the early engagement and feedback we've had from customers has been entirely positive."
Richie Thornton, the Consultancy's director, added: "One of the other big advantages for DoorCo of working with us is that they get the benefit of the combined Business Micros approach. One coordinated team provides web development, front end door configurators and gives them access to the full range of Business Micros software solutions."